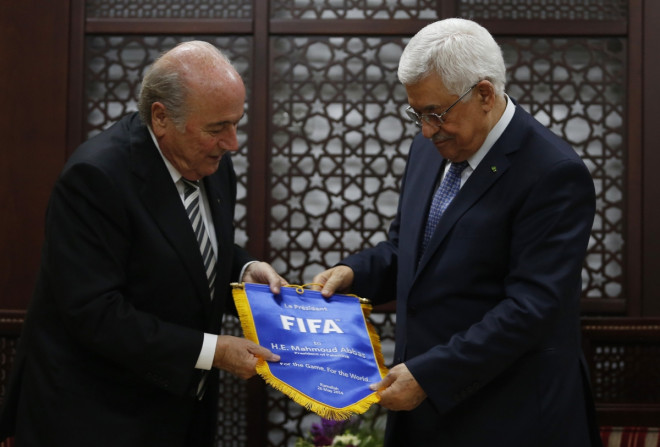 Fifa President Sepp Blatter has revealed that he is a self-declared "ambassador of the Palestine people" in a meeting with Palestinian Authority President Mahmoud Abbas and head of the Palestinian Football Association Jibril Rajoub.
The world football chief said he was determined to help solve the Palestinian FA's problems with Israel regarding travel restrictions for the Palestinian national team.
Israel says that security concerns prevent Palestinian athletes from travelling between the West Bank and the Gaza Strip and argue that it has eased restrictions in recent years.
"Unfortunately, Israel places hurdles on this activity, which we are supposed to exercise freely," said Abbas during the meeting in the West Bank administrative capital of Ramallah.
"At a time when we consider ourselves to be active FIFA members, we see that Israel, the government of Israel, tries to place these hurdles in the path of our activities," he continued.
The Palestinian FA say that they will press ahead with demands for sanctions if restrictions on the movement of Palestinian athletes are not lifted.
Blatter, 78, is set to meet Israeli Prime Minister Benjamin Netanyahu after telling Abbas that "your people, but also your football association, is not alone in the world".
"We shall try, we shall find a solution - a solution that sport, is not politics, but sport, in this case can help to solve the problem and if we are able to solve this problem it could be also a good, let's say step, to solve other problems that you have in this region," said Blatter.
He added that it "will not be so easy to deal on the other side", in reference to Israel.
In March, the calls for Israel to be removed from the global footballing body grew louder after two Palestinian footballers were reportedly shot in the feet at an Israeli checkpoint, preventing them from ever playing football again.
Jawhar Nasser Jawhar, 19, and Adam Abd al-Raouf Halabiya, 17, had been walking home from a training session in the Faisal al-Husseini Stadium in al-Ram in the West Bank when the soldiers allegedly opened fire without warning. Israeli security forces claimed the two footballers had been attempting to throw explosive devices at police officers.
An online petition supporting the removal of Israel from Fifa after the shooting of the Palestinian teenagers has gained about 12,000 signatures.