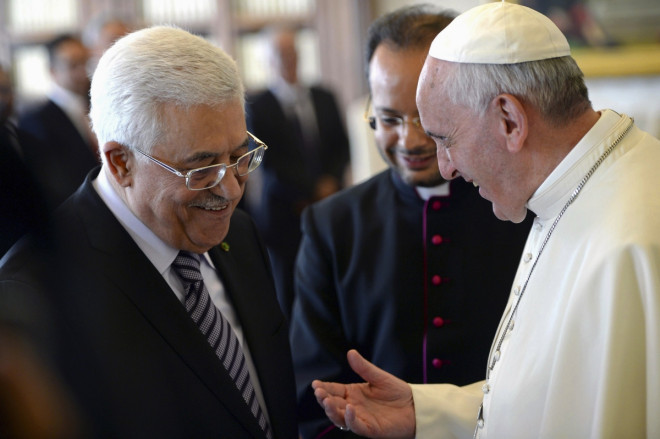 Pope Francis has intervened in the Middle East conflict by praying for peace at the Israeli separation wall in Bethlehem, and inviting the Palestinian and Israeli presidents to the Vatican after peace talks between both sides faltered.
The Pope prayed for five minutes at the wall, which divides Bethlehem and Jerusalem, near an Israeli military watchtower and graffiti which read: "Pope, we need someone to speak about justice" and "Free Palestine", as well as a reference to the Warsaw ghetto.
Pope Francis's decision to pray at the separation wall appeared to come as a surprise to his entourage.
Vatican spokesman Federico Lombardi said: "I was not informed before. It was planned by him the day before. It was not on the plan of the trip."
Speaking on Sunday, the second day of his visit to the holy land, the Pope said the breakdown of peace talks between both sides earlier this year was "unacceptable".
In a carefully crafted statement, the Pope recognised "the state of Palestine", and called for Palestinians and Israelis to work together.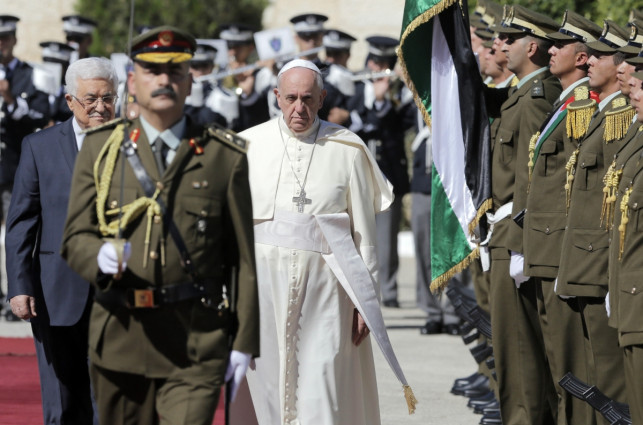 "In this, the birthplace of the Prince of Peace, I wish to invite you, President Mahmoud Abbas, together with President Shimon Peres, to join me in heartfelt prayer to God for the gift of peace," Pope Francis said during mass in Manger Square. The offer was accepted by both sides.
A spokesperson for Peres said: "The president welcomes the pope's initiative and says he appreciates any effort that is being made towards achieving peace between Israel and her neighbours."
In an address delivered with Abbas in Bethlehem, the Pope said: "Even in the absence of violence, the climate of instability, and a lack of mutual understanding have produced insecurity, the violation of rights, isolation and the flight of entire communities, conflicts, shortages and sufferings of every sort.
"In expressing my closeness to those who suffer most from this conflict, I wish to state my heartfelt conviction that the time has come to put an end to this situation, which has become increasingly unacceptable."
He added: "The time has come for everyone to find the courage to be generous and creative in the service of the common good, the courage to forge a peace which rests on the acknowledgment by all of the right of two states to exist and to live in peace and security within internationally recognised borders."
Mustafa al-Barghouti, a member of the Palestinian Legislative Council, said the Pope's prayer at the separation wall "will remain in the world's mind forever as a rejection of the apartheid wall", Al Jazeera reported.
Al-Barghouti also said that the Pope's itinerary, in which he went straight from Jordan to Bethlehem rather than through Israel, was "a nod to Palestinian independence".
Previous pontiffs have flown into Tel Aviv and then proceeded through Israel into Palestinian territory.