Filipinos see shadow of dictator Marcos in Rodrigo Duterte's 'culture of death'
Priests and church-goers in Manila held candle-light vigil for 3,000 dead in drugs war.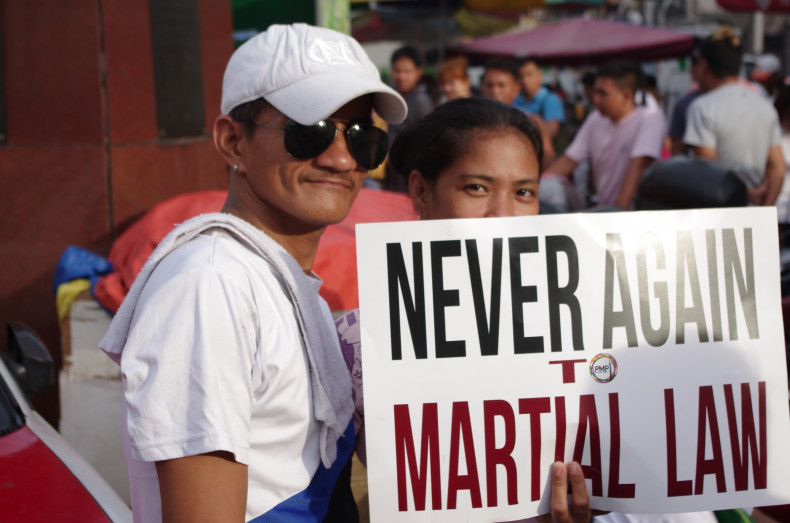 Protesters gathered in Manila to mark the country's slide into martial law 44 years ago today – and to oppose their current government's bloody war on drugs.
Around two thousand people packed the Philippine capital's Plaza Miranda this afternoon, to attend a Catholic mass held by local church members and the Philippine Misereor Partnership Inc (PMPI), a local coalition of NGOs. A candlelit vigil was held later in the evening to remember those lost to violence.
Buhay Na May Dignidad Para Sa Lahat – 'Life with Dignity for All People' – was the day's mantra, and repeated between hymns and prayer readings. The hashtag #NeverAgain was trending on social media. Other smaller events were held across the city.
The central rally's time and place were significant: on September 21st, 1972, then-Filipino president Ferdinand Marcos signed Proclamation 1081. It prefaced a nine-year period of martial law, during which extrajudicial killings and disappearances were rife. A bomb blast at Plaza Miranda, blamed on Communist militants, was a key factor in the declaration.
A historian recently put the number of killed under Marcos' regime at 3,257. Current president Rodrigo Duterte has embarked on a violent war on drugs since assuming office in June, during which over 3,000 people are thought to have been killed already.
Many at the rally were keen to draw lines between the Marcos and Duterte regimes. "There are people who are anti-Marcos and pro-Duterte," said writer and activist Clara Balaguer, 36. "That's insane. What you're seeing now is history repeating itself, and all the steps are being put into place for martial law to be declared in everything but name."
Duterte, who has praised Marcos and who recently provoked uproar by moving the former dictator's remains to a 'Heroes' Cemetery' outside Manila, has vowed to kill 100,000 drug users and pushers amid a crime wave orchestrated by a powerful network of gangs.
If we become apathetic towards each other I think that's the end of humanity.
The return of the death penalty is being debated, and some legislators are pushing for the criminal age to be reduced from 15 years to nine. The suspension of the writ of habeas corpus has already been suggested by new justice committee chair senator Richard Gordon. When asked if he would shoot a nine-year-old, one police officer shrugged his shoulders. Babies and young children have already been killed amid the violence.
But Duterte's popularity shows little sign of slowing domestically: a recent survey put his approval rating at 91%. Even on Plaza Miranda's periphery there was little support for the rally. "(Duterte) is good because this country has so many drugs," 50-year-old Jorge Garcia, who was coordinating motorbike taxis, said. "It's the way to stop the drugs." Others chimed in beside him, chanting the president's name.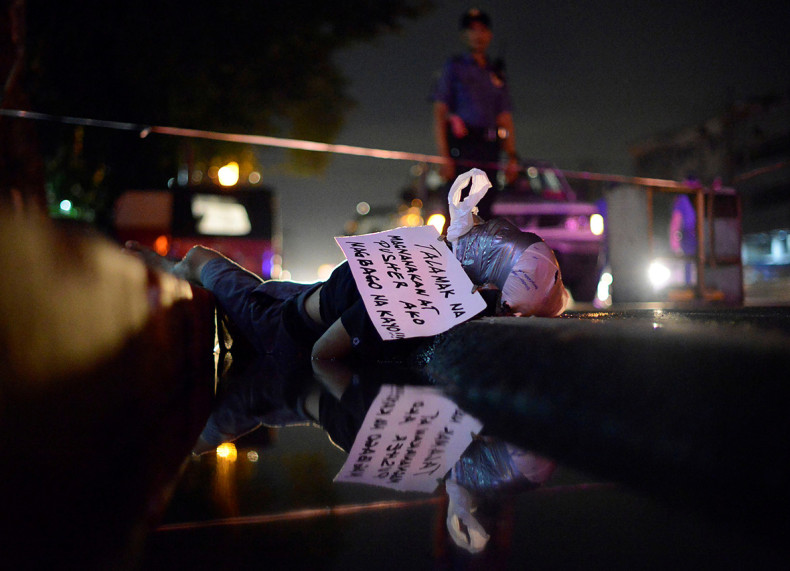 "The western media and governments and the traditional intellectual Filipinos and religious are seriously concerned," said Lito Soriano, a recruitment consultant. "(But) the Filipino people in the street and countrysides are terrorised and traumatised by heinous crimes committed by drug addicts in their neighbourhood." Pro-Duterte rallies have also been held in recent days.
The Philippines' powerful Catholic Church has been torn between faith and their flock, most of whom support the president's anti-drugs crusade. Most church leaders remained silent even when Duterte described the Pope as a "son of a whore", the same name he recently called US President Barack Obama.
Many priests, monks and nuns were among the rally's attendees. Brother Angel, 30, a monk from neighbouring Quezon City, told IBTimesUK: "At first we respect political choices. Our role as church people is to help the people choose who has that moral standard.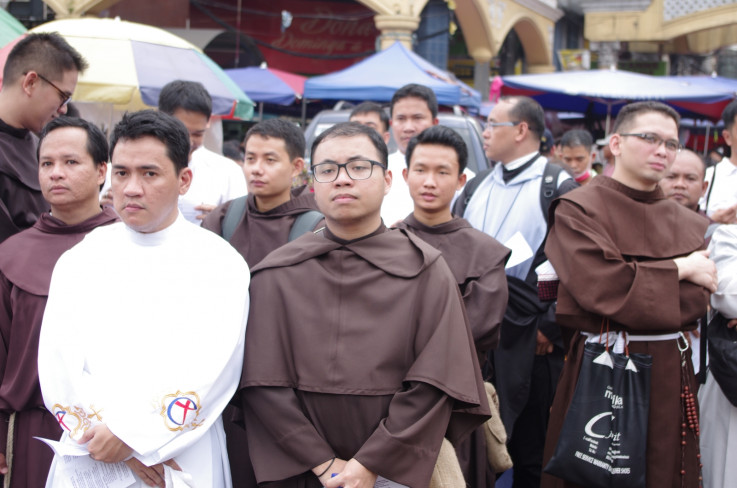 Manila priests rally against Duterte's drug wars
Sean Williams/ IBT
"But we don't give names," he added. "With what has happened, it's our moral obligation to encourage people to maintain 'thou shalt not kill'." He added that a young girl from his choir was recently shot dead, her neck then adorned with a customary cardboard plaque claiming her to be a drug pusher.
We'd like the government to have a kind of method to make the killings stop.
"I believe we are in a culture of death," he said. "And it's rampant. I think President Duterte should listen: we should defend due process."
Some at the rally pointed to a revisionism of martial law history as a reason so many who decry Marcos' time in power, which ended in 1986 amid a bloodless coup, yet support Duterte. "There are one or two pages about (martial law) in textbooks but that's about it," 22-year-old activist Karina Cutanda said.
Others claimed the president's drug war is little more than a smokescreen for chronic poverty and joblessness in the Philippines. "We'd like the government to have a kind of method to make the killings stop," said Rene Sibug, 56, who remembered the "severe" years of martial law. "It's poverty: that's why the kids have to sell drugs."
Karl Isaac Santos, 26, is an anti-mining protester who joined the rally. In civil society, he said, many people have become victims of Duterte's drug war. He, too, is afraid of summary execution. "I wasn't alive during martial law but my parents were, and they told terrible stories about how hard it was to live in the Marcos era," he said.
"If we become apathetic towards each other I think that's the end of humanity."
---
Sean Williams is a freelance journalist based in Berlin
---