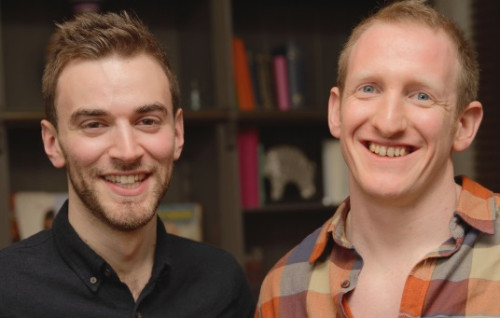 A man who launched a campaign to help find the person who stopped him committing suicide has been reunited with the stranger.
Jonathan Benjamin, 26, hit the headlines after he began a worldwide appeal with the charity Rethink Mental illness to help find the man who intervened when he was poised to jump off Waterloo Bridge in London in 2008.
He said he wanted to take his own life because he was struggling to cope after being diagnosed with schizoaffective disorder when he was 20-years-old.
Benjamin launched the Find Mike campaign – so called as he had forgotten the name of the person who helped him in his distressed state – as he wanted to thank the Good Samaritan in person for his help.
Soon, the appeal went viral worldwide, with the #findmike hashtag becoming a huge trending topic on Twitter in the UK as well as countries such as Australia, South Africa and Canada. Benjamin also gave various interviews to the media in a bid to find 'Mike'.
Two weeks after the campaign was launched, Neil Laybourn from Surrey has come forward as the person who helped Benjamin six years ago after his fiancé saw the appeal on Facebook. Laybourn and Benjamin were then reunited for the first time in six years.
"I was so pleased to see how well Jonny was doing, I had thought about him over the years and had always hoped he was ok," Laybourn said.
"When we met, it was clear how much that encounter on the bridge meant to Jonny, he told me it was a pivotal moment in his life – which was great to hear.
"I can honestly say, hand on heart that Jonny is one of the nicest people I have ever met, he's a great bloke and it's brilliant to see him smiling again. We'll definitely stay in touch."
Benjamin described the emotions he went through when he finally met the person who saved his life and was finally able to say thank you.
He said: "I didn't instantly recognise him but there was something there that was familiar about him as he approached me.
"When we sat down and began talking there was a moment where everything just came back to me and I could just see him there on that bridge and there he was now in front of me. It was just overwhelming.
"That day on the bridge my life hit rock bottom, but meeting Neil, I felt so happy, it couldn't be more of a contrast. It's as though I've come full circle and that chapter of my life has now closed. He's such a warm, genuine person – everyone should have a friend like Neil."
For more information on mental health, visit rethink.org or call 0300 5000 927 (Mon-Fri, 10am to 2pm)