Ryan Giggs' younger brother Rhodri has slammed Wayne Rooney's 'party girl' Laura Simpson on Twitter as a f**king tramp''.
The 29-year-old office worker aims to cash in on her September scandal with the Everton striker as she offers advice on how to help married men cheat on their wives.
Simpson is working with app wedonttell.com, which sets women up with love cheats like the well-known US site Ashley Madison.
Upon hearing about her latest venture, Giggs quoted The Mirror's story on Twitter with the damning words: ''F***ing tramp''.
The 40-year-old former footballer from Cardiff has experienced the pains of marital infidelity first-hand after his wife Natasha reportedly embarked on an eight-year affair with his brother Ryan, 44.
Simpson previously claimed to have gotten ''intimate'' with Rooney on a night out in Cheshire before he was caught by police drink-driving her VW Beatle with herself in the passenger seat.
Rooney later pleaded guilty to the drink-driving charge and received a two-year driving ban along with 100 hours of community service. The 32-year-old's nine-year marriage to Coleen is also reportedly on the rocks as a result.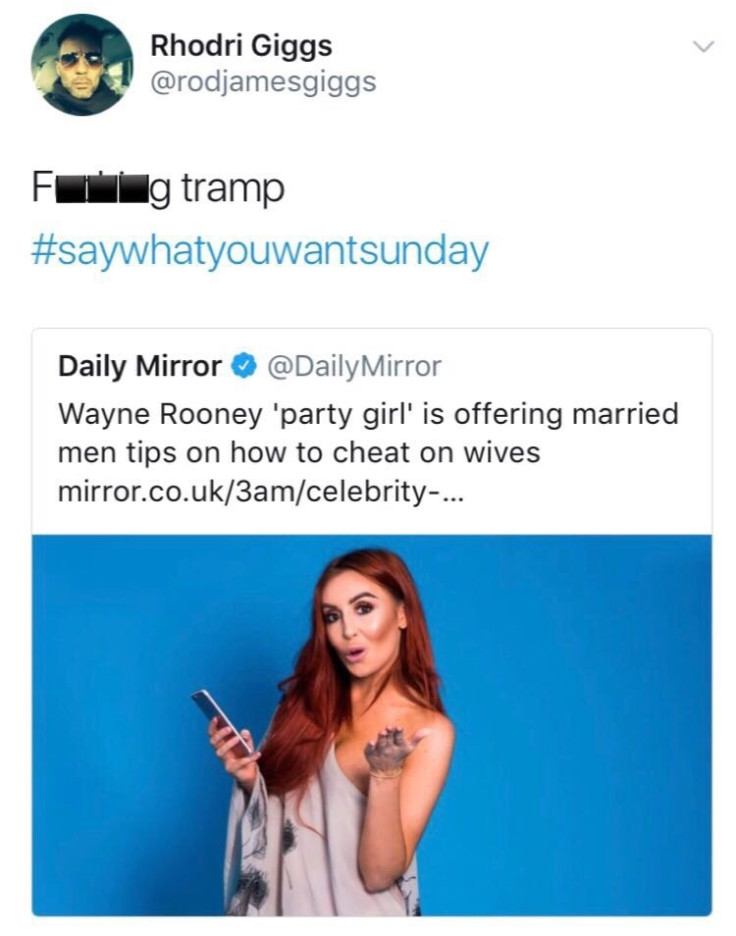 Regarding Simpon's latest business endeavour, a source told The Mirror: "Laura is very savvy and knows her involvement with Wayne is the kind of thing other women would aspire to. Women find it exciting to have illicit affairs with married men and lots of successful, rich men are happy to meet them.
"It's giving people a platform where everyone knows where they stand. She knows she will come under criticism and be called a home-wrecker but these men are going to cheat whether you give them a website to do it on or not.
"This is just making sure women know they are married or in a relationship."
Coleen is trying her best to salvage her relationship and forgive her husband for his indiscretions, stating in a public Facebook post: "People are probably thinking I am stupid for staying. I am not stupid, I know my own mind and it's something I want to try and work on.
"Yes, it has been a s*** time and yes, time was spent apart and I thought my marriage might have been at an end."