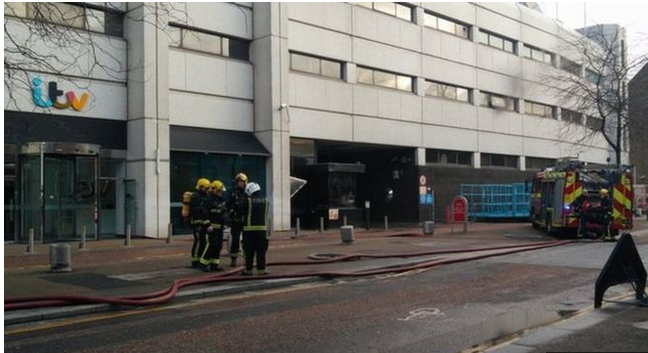 A fire at ITV television studios forced the popular breakfast programme Good Morning Britain off air this morning. The London Fire Brigade said the fire broke out in the post room in an office block which houses the ITV television centre. The centre is located near the Southbank complex on the Thames.
The blaze was detected a minute before the programme was due to go on air. Around 50 people were evacuated from the block while fire fighters dealt with the fire, which was quickly extinguished. ITV was forced to replace Good Morning Britain with a pre-recorded programme, which was then followed by an episode of Dinner Date.
London Fire Brigade released a statement: "Four fire engines and 21 firefighters and officers have tackled a small fire at ITV Studios on London's Southbank this morning. Part of a post room on the first floor was damaged by fire. The fire meant that Good Morning Britain was taken off air."
No casualties have been reported and the fire does not appear to have spread through the block. The Brigade was called just before 7am, and fire officers are now investigating the cause of the conflagration. A post on the Good Morning Britain Twitter account read: "We've been evacuated because of a fire alarm. Everyone's safe and we're hoping to get back in and on air ASAP."
Later on presenter Ben Shephard tweeted an image of his co-presenters Kate Garraway and Ranvir Singh posing with the firefighters. Garraway made a video post to Twitter in which she said: "We're all outside, the building has been evacuated. The fire service are here now so we're not too worried, but who knows when we'll actually get back on air. "
The programme remained off air for the remainder of its slot which was scheduled to end at 8.30am. Good Morning Britain normally attracts around 600,000 viewers, lagging behind rival BBC Breakfast, which has 1.5m. It was nominated for three Television and Radio Industries Club (TRIC) awards last year, with presenter Susanna Reid separately winning the TRIC Newcaster of the Year award.