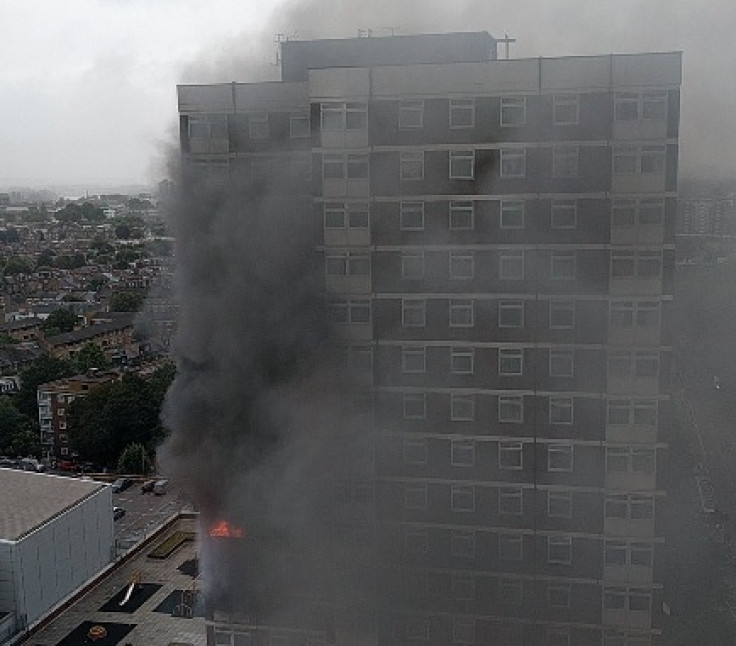 As many as 120 firefighters are battling a huge fire at a block of flats in Shepherds Bush in West London. London Fire Brigade was called to blaze at Shepherds Court shortly before 4pm on Friday (19 August) after an apartment on what appeared to be the seventh floor of the 17-storey building ignited.
Twenty fire engines rushed to the scene after dozens of calls were made to the emergency service. Smoke billowed out of one of the floors and up the building. The Central Line on the London Underground was closed at Shepherds Bush as a result.
Video footage shows a flat entirely consumed by the fire as flames rage precariously towards other ones. Windows in nearby flats have been smashed because of the heat and nearby residents have been warned not to approach the building.
"Smoke from the blaze can be seen across the area and 999 control officers have taken over 40 emergency calls to the incident, " a fire brigade statement said. "The Brigade was called at 3.44pm. Crews from Hammersmith, Kensington, Acton, Chiswick, Paddington, Fulham and surrounding fire stations are at the scene. The cause of the fire is not known at this stage."