Rodrigo Duterte is celebrating his first Valentine's Day as the president of the Philippines by taking a day off from his duties to spend time with his loved ones. He will be spending the day in his hometown Davao City, where he usually passes his time on the weekends and certain holidays.
The presidential palace, Malacañang, said that Duterte has no event scheduled on Valentine's Day, 14 February. He would instead retreat to his rest house in Davao city, where he served as mayor for more than two decades.
"President Rodrigo Roa Duterte will spend Valentine's Day in the countryside of Carmen with family," special assistant to the president, Secretary Christopher Bong Go said on Monday (13 February).
According to local media reports, the former mayor has two families residing in his hometown. He lives with his common-law wife Honeylet Avancena and their daughter Veronica. But Duterte is also reportedly on good terms with his former wife Elizabeth Zimmerman.
Duterte has two sons with Zimmerman — Davao City Vice Mayor Paolo Duterte and Sebastian Duterte.
Last year, he reportedly sent a cake and a bouquet of roses to Zimmerman for Valentine's Day, despite being busy preparing for his presidential campaign, Philippine-based Rappler news portal reported.
Both his families attended his presidential inauguration in Malacañang on 30 June 2016.
Zimmerman was thought to have helped campaign for Duterte while she was diagnosed with cancer, along with their daughter and Davao city Mayor Sara Duterte-Carpio. The mother and daughter travelled to different provinces for campaigning despite Zimmerman's health condition.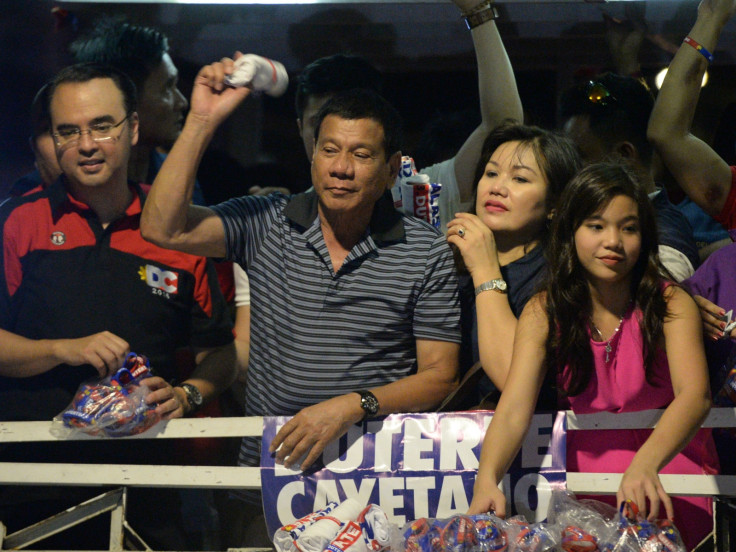 The president, also dubbed the "punisher" or Duterte Harry, is well known for his invective against global leaders and brutal anti-drug campaign.
Earlier in November, the 71-year-old showed a surprisingly gentle side during a state visit to Malaysia, where he crooned the 1998 classic Wind Beneath My Wings by Bette Midler. Malaysian Prime Minister Najib Razak too joined him in the karaoke and performed Cliff Richards' The Young Ones. The head of state also sang a duet together: Sha-La-La-La-La by 1970s Danish rock band The Walkers.