Philippines senator 'prepares for worst-case scenario' amid possible arrest at anytime
Leila de Lima pointed to comments from President Rodrigo Duterte that he wants her 'locked up in jail'.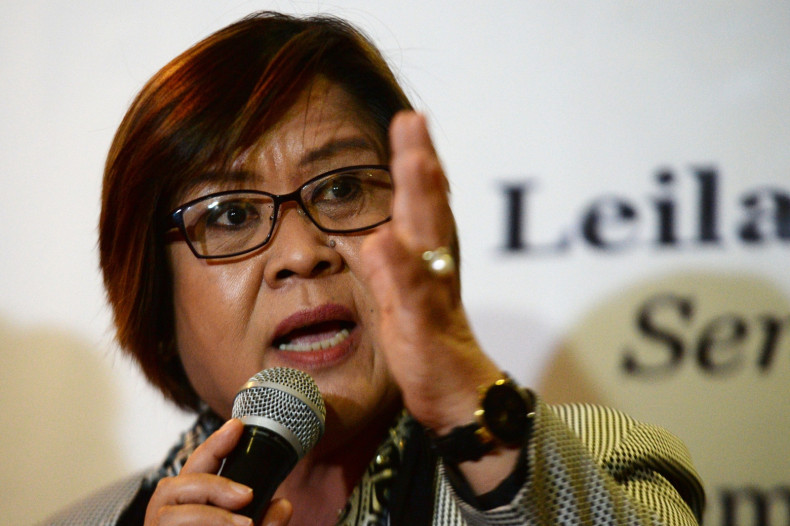 Philippines Senator Leila de Lima is "preparing for a worst-case scenario" over the possibility of charges being filed and the issuance of an arrest warrant against her over her alleged role in the illegal drug trade in the New Bilibid Prison.
The Liberal Party senator has frequently clashed with President Rodrigo Duterte and claimed it has long been his ambition to see her jailed. She also referred to Justice Secretary Vitaliano Aguirre II's recent statement that an arrest warrant against her could be served "anytime" soon.
"I've been preparing for a worst-case scenario because it's long been ordered by the president," de Lima said on Monday (13 February). "Hasn't he said for the longest time that he wants me locked up in jail to suffer the fate of former president Gloria Macapagal-Arroyo?"
"Those are his words, not mine. So Duterte and his allies have long been plotting against me," she added. Recent reports suggest that de Lima could be indicted this week.
De Lima has been accused of tolerating and gaining from the outlawed narcotics trade at the New Bilibid Prison by the Volunteers Against Crime and Corruption (VACC), former officials of the National Bureau of Investigation (NBI) and the NBI itself, according to Inquirer.net. Convicted drug lord Jaybee Sebastian also filed a complaint against de Lima which was consolidated by the Department of Justice (DoJ).
The senator said she does not know when an arrest warrant will be issued. "But Secretary Aguirre has confirmed that the resolution (for the warrant of arrest) would be released very, very soon. And then he had statements like 'she should better brace herself for an arrest,'" she added.
De Lima said her case should be filed with the Office of the Ombudsman as she is a government official. "Instead of bringing the resolution to the Ombudsman, which has jurisdiction over me, they would go straight to regular courts to secure an arrest warrant," she claimed.
Aguirre II hit back against the accusations on Monday, calling them "totally erroneous". He said: "As a lawyer and as a former secretary of justice, she should know that the DoJ does not issue warrants of arrest.
"Consequently, it is totally irresponsible of her to announce that the DoJ is expediting the issuance of such warrants. That is a blatant lie and a total misinformation. Senator De Lima's motivation for saying such is beyond us," he added.
As the battle between de Lima and public officials rages on, the senator said she has instructed her legal team to prepare charges of subornation of perjury and tampering of witnesses against Aguirre II.
"Yes, my legal team is working on it. We are filing our own complaint against Secretary Aguirre with the Office of the Ombudsman," de Lima confirmed. She has repeatedly accused the justice secretary of forcing witnesses to testify against her during an investigation into her alleged drug links.