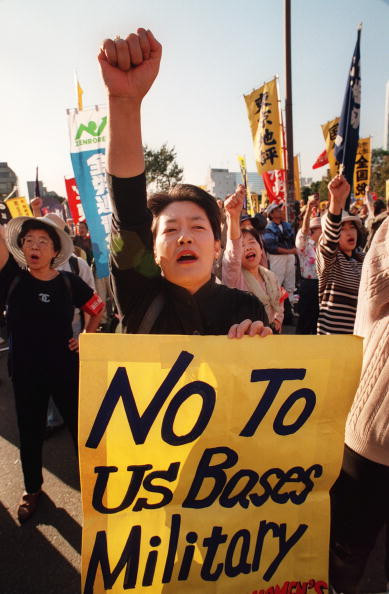 A US sailor has been arrested and charged with suspicion of driving while intoxicated following a car accident in the latest incident involving American service members and military workers in Japan. The accident comes during a particularly tense time between the US military and the Japanese following the arrest of former Marine and military civilian worker Kenneth Franklin Shinzato, who led officials to the corpse of a 20-year-old Japanese woman.
Police sources say he confessed to raping, strangling and stabbing Rina Shimabukuro, reports the Japan Times. Following Shinzato's arrest, US forces in late May imposed a midnight curfew and party and alcohol ban off base for a month.
Now Petty Officer Aimee Mejia, 21, has been busted after Japanese police say she was intoxicated and driving the wrong way down a freeway when she smashed head-on into two vehicles. Mejia was unhurt, but two people in the other cars were injured, though the injuries were not life-threatening, reports Associated Press.
Mejia admitted to police she had a drink at a friend's home in the village of Yomitan in central Okinawa, sources told Japan Today, despite the military's crackdown on drinking. Mejia's alcohol reading was six times the level allowed by law, according to police.
"We deeply regret this incident and express our heartfelt sympathies for the accident victims and their families. We wish them a fast recovery," Lieutenant Gen. John Dolan, the commander of US Forces in Japan, said in a statement.
Dolan held an emergency meeting with commanders of the Air Force, Army, Navy and Marines, and spoke with US Ambassador to Japan Caroline Kennedy to discuss the situation, according to the statement.
Japanese Foreign Minister Fumio Kishida lodged a protest with Kennedy, calling on US officials to take more stringent action to control their personnel. Kennedy reportedly also expressed her regrets about the accident.
Both Mejia and Shinzato were based at Kadena in Okinawa. The island is home to more than half of about 50,000 American troops based in Japan. Frequently protesting residents there complain that they are forced to bear an unfair burden of housing the US troops under a bilateral security agreement.
The simmering anger erupted after the discovery of Shimabukuro's body. The case was so shattering that Japan's Prime Minister Shinzo Abe raised it during President Barack Obama's recent visit to Japan.
"I feel profound resentment against this self-centered and absolutely despicable crime," Abe said. Obama offered his condolences and promised that America would fully support prosecution of Shinzato under Japanese law.
In light of the slaying, Governor Takeshi Onaga called for revising the Japan-US Status of Forces Agreement, which grants virtual extraterritorial rights to American military service members.