First Facebook, now RT's access to Dataminr Twitter news discovery service has been revoked
Twitter news discovery tool Dataminr has revoked access to Russian TV network RT, a day after Facebook.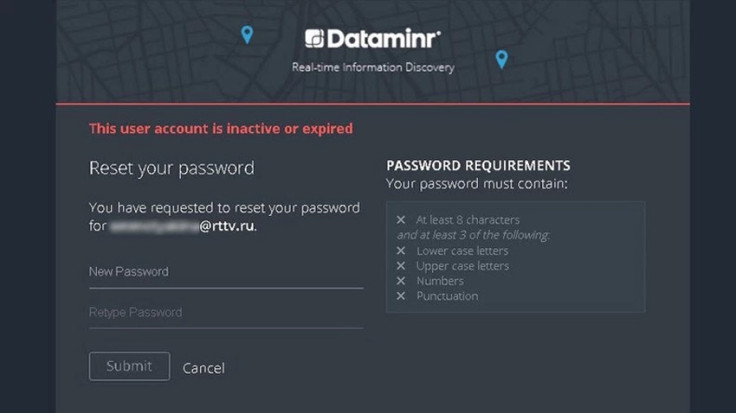 Russian international TV network RT announced on Thursday (19 January 2017) that its access to the Dataminr Twitter news-discovery service has been revoked without reason. The revelation comes less than 24 hours after the broadcaster reported that it had been banned from posting content on its Facebook page ahead of the inauguration of Donald Trump as US president.
Dataminr informed RT on Thursday that its account would no longer work with immediate effect. When questioned by RT, Dataminr's legal team said: "Per our November 30 2016 notice to you, Dataminr is electing not to renew the Renewal Term. As such, your Agreement ended on 31 December 2016".
RT says that Dataminr did not give an official reason why the service had been terminated, but in a phone call informing RT of the service denial, Datminr said that it was now conducting a "review of how we work with government agencies".
It is not clear whether RT tried to access the Dataminr account between 1 and 18 January, when in theory the account should not have been accessible at all.
IBTimes UK has asked RT to clarify this, and is waiting for a response.
RT believes the termination of its Dataminr account is connected to a Wall Street Journal piece from May 2016 entitled "Twitter Picks Russia Over the US", which complained about the fact that Dataminr was refusing to work with the CIA, but was still happy to sell data on Twitter analytics to Russia.
The article raised concerns that through RT's partnership with Dataminr, the Russian secret service would have access to tweets. RT denies this assertion as groundless and untrue.
"We're very disappointed," said RT's head of social media Ivor Crotty. "Dataminr has a monopoly on analysing the Twitter 'firehose' [the full flow of all Tweets in real time] and we've been using it successfully across the RT group for a year. It's an unfortunate symptom of the fear and loathing gripping the United States and I hope it alleviates soon."
The incident was reported by RT at 2pm GMT, just over 12 hours after the TV network reported that it had been banned from posting content on Facebook between Thursday 19 January and Saturday 21 January. This in effect means that RT cannot post videos or photos of Trump's inauguration ceremony on Friday.
Facebook told IBTimes UK that the ban was part of standard procedure when a copyright infringement claim is made about live broadcasts and that it is working with RT to resolve the issue.
RT however has concerns that the copyright infringement complaint was politically motivated after discovering that the complaint was made by Current Time TV, an international TV channel for Russian-speaking audiences that is part of Radio Liberty. Radio Liberty, also known as Radio Free Europe, is a private non-profit news organisation aimed at providing uncensored news around the world, that is funded by the US Congress.
© Copyright IBTimes 2023. All rights reserved.