Elon Musk's 700mph hyperloop train has taken another major step closer to reality, as one of the companies building it, called Hyperloop One, has completed a full-scale test track and revealed 11 potential routes the revolutionary new transport system could be built on.
Hyperloop One's plan is to blast freight – and eventually passengers – through a tunnel in a series of pods. These pods levitate with magnets and are powered by electric motors; most of the air from inside the hyperloop tube will be removed, reducing friction and helping them reach speeds higher than a commercial airliner.
The company says it is "on the brink of the first great breakthrough in transportation technology of the 21st century, eliminating the barriers of time and distance and unlocking vast economic opportunities."
A 1,640-foot test track called the DevLoop has been built by Hyperloop One in North Las Vegas and will soon be used to try out a full-scale version of the train for the first time – an occasion the company refers to as its "Kitty Hawk" moment, in reference to where the Wright brothers first flew in 1903.
Hyperloop One has also offered up 11 potential US locations for the train to operate. Until now, the focus on where the first hyperloop will be built centered on Dubai and eastern Europe. The 11 short-listed locations were all proposed to Hyperloop One by teams set up independently from the company, as part of the Hyperloop One Global Challenge in 2016.
The shortest proposed route runs for 64 miles between Boston and Providence, calling at Somerset, while the longest measures 1,152 miles and connects Cheyenne, Wyoming, with Houston, Texas.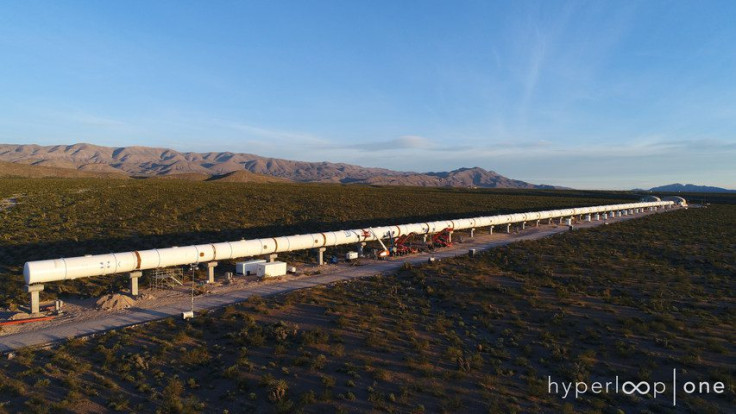 Other routes include Los Angeles to San Diego, Miami to Orlando, Seattle to Portland and Reno to Las Vegas. A full list of the proposed US routes can be found at the bottom of this article. They join a further 24 routes submitted by teams from outside of the US and of the 35 in total three will be chosen to work with Hyperloop One on making the train lines a reality.
That being said, Hyperloop One (and Hyperloop Transportation Technologies, which is also working on Musk's original plans) have a lot of work ahead. Not only do they need to prove the technology works (and works safely and reliably), but they need to negotiate with and owners, buy land where necessary, clear all legal and regulatory hurdles, and make a profitable business model.
Proposed US hyperloop locations:
Chicago-Columbus-Pittsburgh – 488 miles
Colorado (Denver International Airport to Colorado Springs, Denver) – 360 miles
Colorado (Denver to Colorado Springs or Fort Collins) – 242 miles
Kansas City-St. Louis – 240 miles
Los Angeles-San Diego – 121 miles
Miami-Orlando – 257 miles
Portland-Seattle – 173 miles
Reno-Las Vegas – 454 miles
Texas Triangle (San Antonio, Dallas, Fort Worth, Laredo) – 640 miles
Boston-Providence, calling at Somerset – 64 miles
Cheyenne, Wyoming,-Houston, Texas – 1,152 miles