Melania Trump praises Saudi Arabia for 'empowerment' of women
Women face severe restrictions in the world's most gender-segregated nation.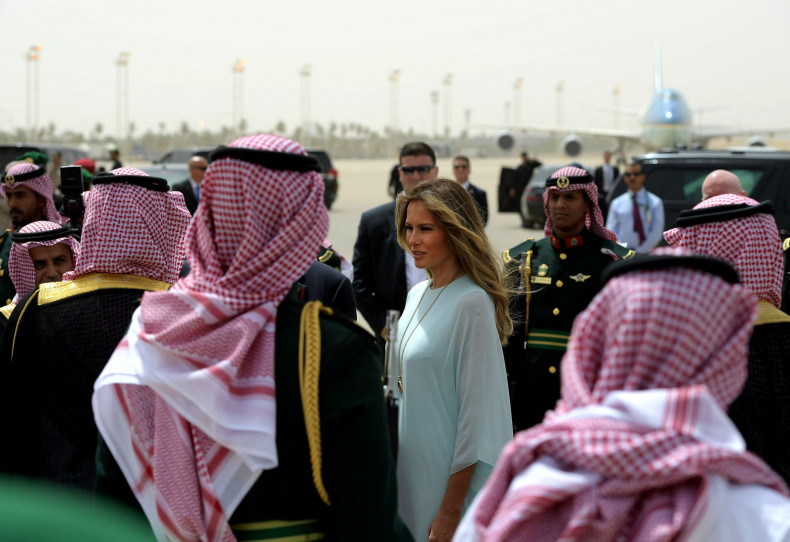 United States First Lady Melania Trump has praised Saudi Arabia for the "empowerment of women" as she visited a General Electric all-female service centre in the Saudi capital Riyadh on 21 May during Donald Trump's first overseas trip as president.
During her visit at the GE business process service, Mrs Trump told 200 female employees that women should work together and educate their children well.
"Enjoyed talking to the incredible women working hard @GE_Saudi service centre. Great strides being made towards the empowerment of women," the First Lady later wrote on Twitter.
Her comments come after President Trump raised eyebrows for hailing Saudi Arabia for empowering women, given ultra-conservative Saudi Arabia's record on women's rights (see restrictions against women box below).
Women face severe restrictions in the world's most gender-segregated nation, where – despite being adults – they must obtain permission from a male guardian to travel abroad, marry and even be released from prison. They can also be required to provide approval to study, work and or access health care, according to Human Rights Watch.
The situation for women gradually started to change after the late King Abdullah declared in 2011 that women could join the government advisory Shura Council, marking a breakthrough in the kingdom's history.
For the first time that year, King Abdullah granted women the right to vote saying, "we refuse to marginalise women's role in Saudi society". Following negotiations with religious leaders in the Persian Gulf country, which applies a strict version of Islamic law, King Abdullah passed a royal decree which allowed females to vote in local elections in December 2015.
Saudi Arabia's restrictions against women
■ Saudi Arabia is the only country in the world where women are not allowed to drive
■ When leaving the house, Saudi women need to be accompanied by a "mahram" who is usually a male relative that a woman cannot marry at any time in her life
■ A woman cannot open a bank account without her husband's permission
■ Some restaurants ban single women "to avoid shocking behaviour"
■ Saudi women cannot go for a swim
■ A law prevents female patients visiting a male doctor, without being accompanied by a male guardian
■ Trying clothes when shopping is forbidden
■ While they were allowed to compete in sports, women have to be accompanied by a male guardian and wear a "Sharia-compliant" sports kit that covers their hair
■ A woman is barred from entering a cemetery
■ Saudi women are banned from reading an uncensored fashion magazine
■ Buying a Barbie doll is forbidden as the toys are seen to stand for luxurious excess and physical beauty