First Lady Melania Trump 'miserable' under intense glare of political spotlight
'Don't let her smile in those photos fool you,' one source claimed.
Less than a month into her role as First Lady of the United States (FLOTUS) Melania Trump is already "miserable" with her new life, a report has claimed.
With the gaze of both the domestic and international spotlight fixed firmly on her, the highly private Slovenian-born Melania has already become a target for her unconventional living arrangement.
Melania is staying at Trump Tower in New York City so as to allow their son, Barron, to continue attending his private elementary school. Her retreat from the public eye has made her the butt of the jokes from late-night hosts. Earlier this month, Jimmy Kimmel quipped she is "trapped like Rapunzel" in her lofty penthouse.
"This life wasn't her dream. It was Donald's," a family friend of the Trumps, Phillip Bloch, told US Weekly. "Truthfully, it's a lot to cope with."
Melania came to the US in 1996 to work on her fashion career and is reportedly unhappy with the unwanted jolt into politics. "Melania is unhappy with how her life ended up," one family source claimed. "She is miserable."
The first lady has been "staying hidden more" since her husband's inauguration as 45th President of the United States on 20 January. Before Donald Trump took office, Melania would accompany her son to and from school, but that has changed since pickets encircled Trump Tower.
"Melania has the Secret Service take Barron to school and retrieve him," an unnamed source said.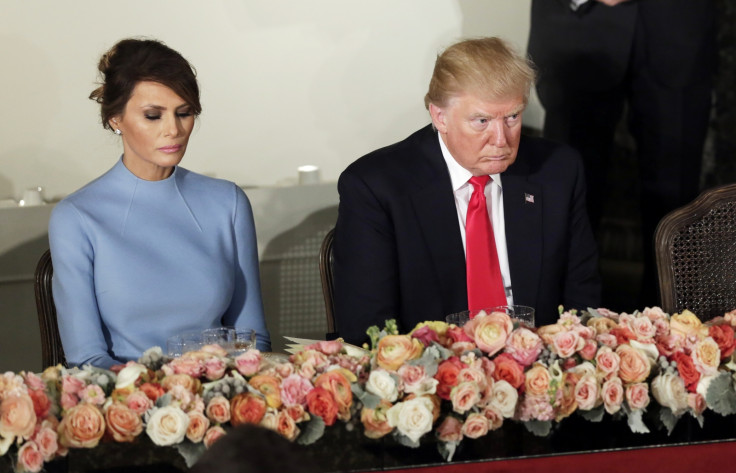 While presidential spouses in the US traditionally accompany their foreign counterparts, the Japanese first lady, Akie Abe, was left to make several stops in Washington DC on her own. However, Melania did accompany Akie to a Japanese garden in Delray Beach, Florida, – far from the scrutiny of her husband's turbulent presidency in Washington DC.
Images showed the pair touring Morikami Museum and the gardens, but one source claimed the pictures are a far cry from reality. "Don't let her smile in those photos fool you," the source said. "She hates this."
On Thursday (15 February), Melania made her first official White House appearance as she and the president welcomed Israeli Prime Minister Benjamin Netanyahu and his wife, Sara.
Melania's absence from her role has not gone unnoticed, but she is using the hashtag "PowerOfTheFirstLady" on social media.
Despite reports of her alleged misery, another source countered that Melania "is very happy with her life and supporting her husband and family."
© Copyright IBTimes 2023. All rights reserved.