With Red Nose Day looming, production has begun on the upcoming Love Actually mini-sequel which was announced just days ago. Script editor Emma Freud took to Twitter on 16 February, sharing snapshots of writer-director husband Richard Curtis (who penned and helmed the 2003 original) in celebration of the first day of filming.
The photographs feature characters, played by Thomas Brodie-Sangster and Liam Neeson, in a London location that will feel particularly familiar for Love Actually fans.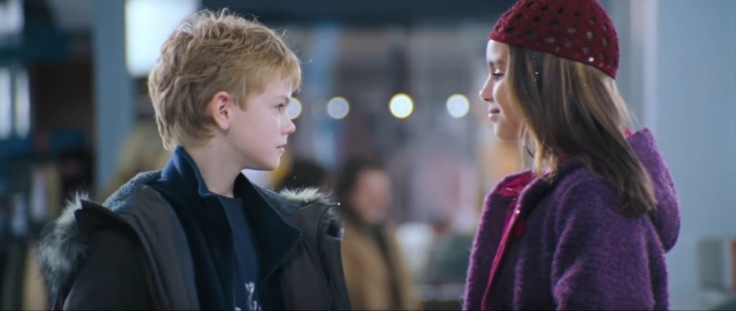 In the much-loved movie, the pair play Sam and stepfather Daniel – who are both coming to terms with Sam's mother passing-away. They are sat on a bench by the River Thames when Sam confesses to Daniel that he's head-over-heels in love with one of his schoolmates, Joanna. So the two start to conjure a plan which convinces her to reciprocate his feelings.
The bench was a big deal when it came to Sam and Daniel's character arcs and fans cockles will be warmed when the two appear in situ again, 14 years later
If those pictures weren't enough of a nostalgia kick, Freud also shared an image of Comic Relief co-founder Curtis with Olivia Olson, who played Joanna in the original movie. Does this mean that her character and Sam began dating after their sweet exchange in the airport and are still together after all this time? Fans will just have to wait and see.
The 10-minute short – appropriately dubbed Red Nose Day Actually – has been written and directed by Curtis and is set to reunite Martine McCutcheon, Lucia Moniz, Keira Knightley, Andrew Lincoln, Colin Firth, Bill Nighy and Rowan Atkinson on-screen. Recent Bafta nominee Hugh Grant will be popping up to reprise his role as Prime Minister David.
While Emma Thompson hasn't been confirmed to appear so far, Curtis recently told the BBC not to rule it out: "Oddly, we're not quite sure [if she'll be in it]. It's all been done in a great rush and I think not... but I'm now thinking again."
"I would never have dreamt of writing a sequel to Love Actually, but I thought it might be fun to do 10 minutes to see what everyone is now up to," Curtis continued. "Who has aged best? – I guess that's the big question... or is it so obviously Liam?
"We've been delighted and grateful that so many of the cast are around and able to take part – and it'll certainly be a nostalgic moment getting back together and recreating their characters 14 years later."
The special will air as part of Comic Relief's Red Nose Day Special on BBC One on Friday 24 March.
For more entertainment news follow A-List on Twitter @Alistinsider