Camels in Dubai can now be treated with as much care as racehorses, thanks to state-of-the-art equipment at their very own hospital.
Dubai Camel Hospital opened last week at a cost of 40 million dirhams ($10.9m/£8.1m). It will enable camels, which are a big part of the culture of the United Arab Emirates, to receive customised medical treatment in special operating theatres.
A mini racetrack has been installed to help them get back on their feet before leaving hospital.
Mohamed Al Bulooshi, director of the hospital, told Reuters it was the first facility of its kind in the world. "There are a lot of equine hospitals but for camels, no," he said.
"We are very interested in preserving our heritage and we found that we must care for camels, not only by breeding and raising them but also by being able to medically treat them."
The hospital is staffed by veterinarians from around the world, including from the UK and Mexico. It can cater for 20 camels at a time.
Much of the medical equipment had to be made to order to cater to camels' specific needs and some was adapted from equestrian medical facilities. MRI and CAT scan facilities will be added in 2018.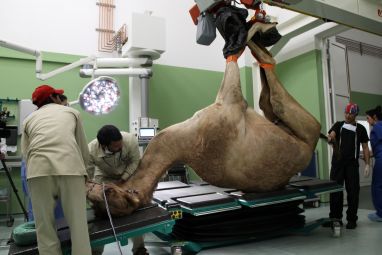 The hospital will also carry out research into camels to improve understanding of their biology and develop camel medicine. Ahsan Ul Haq, head of marketing and finance, said it was their intention to "unfold the secrets of this strange desert animal".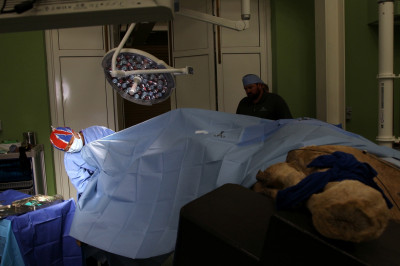 Although this is the first medical facility designed specifically for camels, the animal is a common feature throughout the Middle East and North Africa. Camel racing is one of the traditional sports in the UAE. They are also used for working, trekking and desert safaris, as tourist attractions, and even have their own beauty pageants.