'Fishy' business: Salmon sales drive UK food exports to a record high
Industry data suggests exports of the fish jumped more than 53% helped by a weaker pound.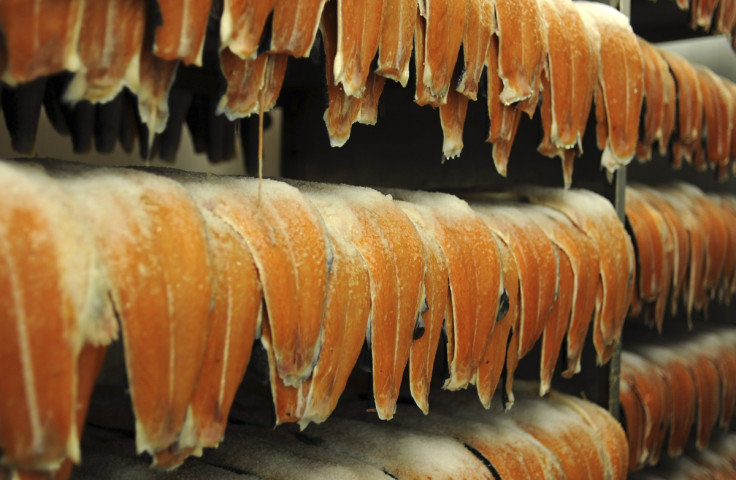 UK food and drink exports rose 8.5% to a record £10.2bn over the first six months of the year, largely thanks to rising exports of salmon and a weaker pound, according to industry data.
In its latest take on the market, the UK Food and Drink Federation (FDF) said on Friday (18 August) that salmon exports rose by more than 53% by value to £408m.
Whisky remained the UK's top export, followed by salmon, while beer exports bagged the third spot, overtaking chocolate followed by cheese.
However, in quantitative terms, the volume of salmon exports rose by 24%, but whisky and beer exports actually fell slightly by 1% and 2.2% respectively.
Ireland and France, were the two biggest importers of UK food and drink, the FDF added.
Headline exports rose by 9% to European Union markets, while markets outside the EU accounted for 7.6% growth with exports to South Korea up 77%, mainly due to beer sales.
Food minister George Eustice said: "We have ambitious plans to produce and export more of our fabulous foods around the world and more businesses are trying exporting for the first time.
"Last week we announced further market access to China for pork producers and UK beef will soon be heading to the Philippines. We will continue to work with industry to open new opportunities."
The pound has registered steep declines against the dollar and euro since the UK voted to leave the EU in June, giving a boost to exports.
However, the FDF warned a sound Brexit deal was vital for the continued success of the industry, adding that if the UK and EU revert to WTO tariffs, "food and drink would face significantly higher tariffs than most other products."
"Goods could also face lengthy delays at the border for checks and inspections that would add delays and cost to products, particularly those with short shelf lives," it added.
Brexit Secretary David Davis has said the UK is seeking a deal with the EU that would be in the best interests of both parties and facilitate mutually beneficial trade ties.
© Copyright IBTimes 2023. All rights reserved.