Five boys have been arrested on suspicion of arson following a "devastating" fire which destroyed a school in Lancashire.
The boys, aged between 11 and 15, were arrested following the blaze at Leyland St Mary's Catholic Technology College on Royal Avenue on 1 September.
They have since been released on bail until 30 September pending further inquiries.
The school was due to reopen on 3 September following the summer holidays.
Lancashire Fire and Rescue Service said 125 firefighters and 20 engines were called in to tackle the blaze. Just over 90,000 litres of water an hour were used to help bring the fire under control.
The school, which was built in 1957, had no sprinklers and the roof was constructed using sandwich foam boards, which helped spread the fire in an area that was difficult to reach, according the fire service.
The next morning, 10 fire engines were still at the scene to fully extinguish the fire and ensure the site was safe. It is expected that fire engines will remain at the school for several hours.
Lancashire Police have confirmed that five boys have been arrested in the aftermath of the fire, although further details have yet to emerge.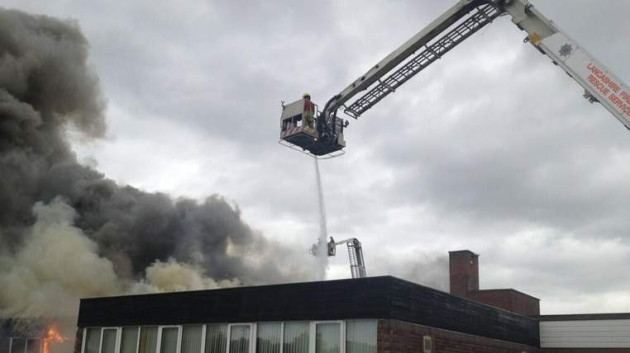 A statement on the school's website said: "A Fire at school today (Sunday) has caused devastating damage.
"This website will post details of when pupils will be able to return. Please pray for the school at this difficult time."
Lancashire County Councillor Matthew Tomlinson added on Twitter: "As a former pupil of Leyland St Mary's, I'm so sorry to hear of devastating fire. I hope to be a part of the LCC team who rebuilds it."