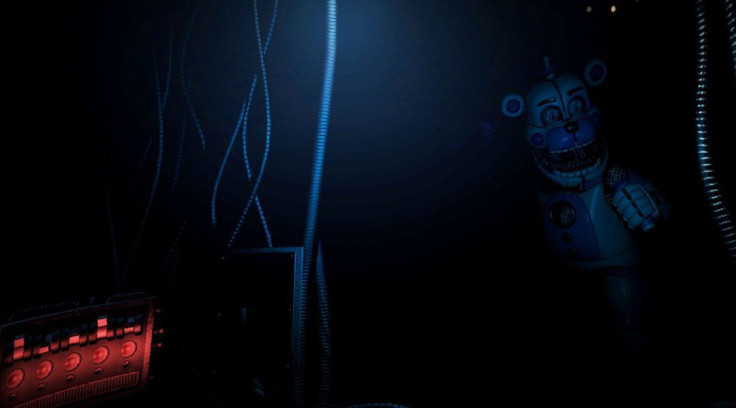 The latest entry in the popular Five Nights At Freddy's survival horror series, Sister Location, is set to release in October, according to its new Steam page. Although little has been revealed about the newest instalment in the franchise, the cryptic yet terrifying details released so far do seem to be promising.
The chilling description for the upcoming horror game reads:
"Welcome to Circus Baby's Pizza World, where family fun and interactivity go beyond anything you've seen at those *other* pizza places! With cutting-edge animatronic entertainers that will knock your kids' socks off, as well as customized pizza catering, no party is complete without Circus Baby and the gang! Now hiring: Late night technician. Must enjoy cramped spaces and be comfortable around active machinery. Not responsible for death or dismemberment."
In April, creator Scott Cawthon released a dark, creepy minute-and-a-half-long teaser trailer of the upcoming indie point-and-click horror game that showed off some clips from preceding games in the series and four creepy animatronics including Freddy Fazbear, a ballerina, Mangle and a brand new, horrifying pig-tailed clown doll.
Released on 21 May, the trailer has already garnered 10.8 million views and counting with a chilling voice teasing, "You don't know what we've been through."
Although neither the description nor the previously released trailer reveal much about the newest instalment's gameplay, the footage revealed so far does suggest a return to the series' original gameplay formula of placing players in a locked security room where they must survive the night shift by using cameras to try and track the animatronics lurking in the shadows.
While the original Five Nights At Freddy's games usually take place in "Freddy Fazbear's Pizza" parlour where deranged animatronics come to life at night, Sister Location will likely take place at a different restaurant or setting.
The indie horror franchise has released four titles since August 2014 for Windows PC and mobile platforms. Earlier this year, Cawthon released a PC role-playing game based on the series. However, it was poorly received due to missing baseline features and was eventually pulled from Steam just a week after its launch.
Five Nights At Freddy's: Sister Location is set to release in October 2016 for PC, Android and iOS.