Five years ago, Malala Yousafzai's life changed forever when a Taliban gunman stormed her school bus in Pakistan and shot her in the head.
Aged just 15, Malala found herself fighting for her life. Her skull and ear drum had been badly damaged in the attack and she needed extensive surgery. She was shot because she spoke up for girls' rights to education.
The brutal attack did not deter Malala from her mission to encourage more Pakistani girls to get an education. Malala would not be silenced and chose to turn her harrowing experience into a force for good, dedicating herself to campaigning.
Since the Taliban's attack, Malala has become a global icon. The 20-year-old's achievements and accolades are truly staggering.
Here are five of the most impressive milestones Malala has achieved in the past five years:
Becoming a role model for women and girls around the world
An activist from a young age, Malala was shot for standing up to the Taliban and challenging the militants for banning girls from going to school in Pakistan's Swat Valley.
The Taliban's assassination attempt fuelled her determination to fight for girls' education and led her to found the Malala Fund which works to send girls to secondary school in Pakistan, Afghanistan, India, Nigeria and countries housing Syrian refugees.
For her 18th birthday, Malala opened a school for 200 Syrian refugee girls living in Lebanon.
"Today on my first day as an adult, on behalf of the world's children, I demand of leaders we must invest in books instead of bullets," Malala said at the school opening.
Publishing her book 'I am Malala'
Together with Sunday Times foreign correspondent Christina Lamb, Malala wrote a book about the day she was shot and the aftermath.
The book opens with the Malala's drive home from school, when a Taliban gunman forced his way onto her school bus and directly asked for the teenage girl. Confused, all the other girls looked at her and in a split second the militant fired three shots in point-blank range.
In her memoir, Malala describes her sadness at having to leave Pakistan and the challenges her family faced when they started a new life in the UK. The book also focuses on Malala's transformation from a schoolgirl into an internationally acclaimed activist.
Malala's personal story is set against the backdrop of events such as Osama bin Laden's death in 2011 and the assassination of Benazhir Bhutto, making for a highly informative and compelling read.
Winning the Nobel Peace Prize
In 2014, Malala became the youngest person to be awarded the Nobel Peace Prize for her advocacy work.
Together with Indian education activist Kailash Satyarthi, Malala received the prize for struggling "against the suppression of children and young people" and for fighting "for the right of all children to education."
In her acceptance speech, Malala condemned "strong governments" that have the resources to begin war for not enabling universal education.
"Why is it that countries which we call strong are so powerful in creating wars but are so weak in bringing peace? Why is it that giving guns is so easy, but giving books is so hard?" she asked.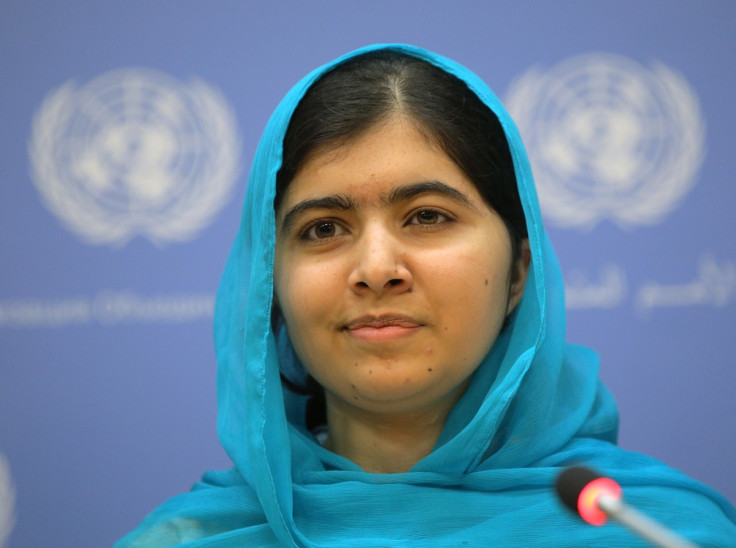 Becoming the youngest ever UN Messenger of Peace
Three years after becoming the youngest Nobel Peace prize winner, Malala broke another record when she was named the youngest ever UN Messenger of Peace.
United Nations Secretary-General António Guterres praised Malala for her "courageous activism for girls' education in the face of grave danger."
"Malala Yousafzai has shown an unwavering commitment to the rights of women, girls and all people," he said.
As she accepted the award, the activist stressed the importance of universal education. "Bringing change starts with us and it should start now. If you want to see your future bright, you have to start working now (and) not wait for anyone else," she said. "The extremists tried all their best to stop me, they tried to kill me and they didn't succeed. Now this is a new life, this is a second life and it is for the purpose of education."
Receiving an offer from Oxford University
Last month Malala received an offer from Oxford University to study Philosophy, Politics and Economics (PPE).
The 20-year-old excitedly broke the news on Twitter: "So excited to go to Oxford!! Well done to all A-level students - the hardest year. Best wishes for life ahead!".
The Oxford degree is considered a springboard into UK politics, proven by the incredible number of PPE-ists who have played a pivotal role in Westminster in the past century. Three British prime ministers (Harold Wilson, Edward Heath and David Cameron) studied PPE. Almost half of Cameron's cabinet was made up of PPE graduates.
The course was also popular among many foreign leaders, including former US President Bill Clinton and Pakistan's first female prime minister, Benazhir Bhutto.
Malala's latest achievement and her relentless determination challenge the status quo has left many wondering whether the young woman is set to become a future world leader.