"The flaps, damn it" are reported to be last words of the Russian pilot who flew the flight Tu-154 before it plunged into the Black Sea. Though the investigators are still probing the flight recorder and have not released any information on the finding, media reports have begun to leak.
Shortly after the pilot shouted about the alleged malfunction in the plane's flaps, he said: "Commander, we're going down," reports Russia's Life News, citing a source close to the ongoing investigation. The exact words are yet to be formally corroborated by the Russian officials as these could potentially throw clues on the investigation angle.
The Russian defence ministry has said the search crews have found the second flight recorder and recovered it from the seabed on Wednesday, 28 December. The main black box or the cockpit voice recorder (CVR) was collected from the crash site on Tuesday, 27 December.
"The second flight recorder of the Tupolev-154 plane was spotted and recovered less than 30 minutes ago," read a statement from the ministry.
The Russian ministry had earlier asserted the information obtained from the recovered flight recorder helped in narrowing down the possible reasons for the crash. "The Central Research Institute of the Air Forces continues decoding of the magnetic media from the Tu-154 flight recorder that was taken from Sochi. Preliminary analysis of the flight recorder data makes it possible to narrow the range of possible causes of the plane crash. Final conclusions about the causes of the air crash will be made by the state commission when it studies all possible factors," said the ministry.
The Russian aircraft, operated by the defence ministry, was carrying 92 people when it crashed in the Black Sea minutes after taking off from the resort town of Sochi on Sunday, 25 December. The Latakia, Syria-bound plane's main flight data recorder, which was picked up by the search team earlier, is being decoded by the ministry's aviation experts.
Pilot error has been one of the several theories floated as the cause of the crash. An unnamed source was quoted as saying: "The preliminary analysis of the flight recorder is complete. It leads us to conclude that the version of the catastrophe connected to mistakes made by the pilot of the aircraft, is the main version."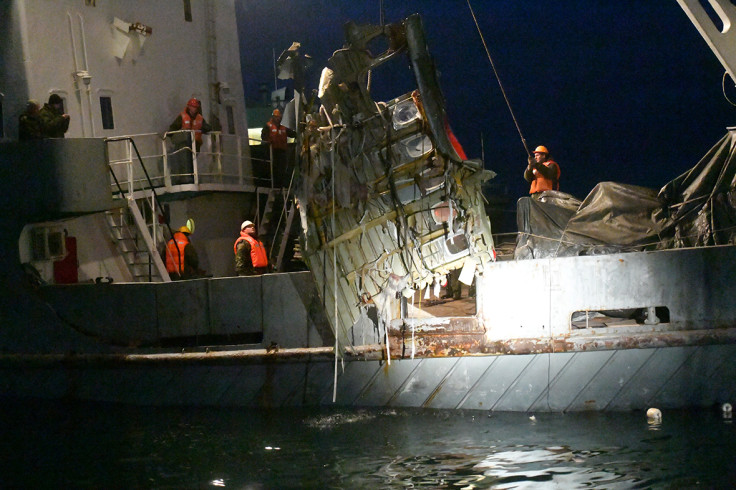 One other black box from the flight, an ageing Soviet-era plane, is yet to be recovered from the Black Sea. Besides the bodies of 15 victims, large pieces of aircraft debris and personal belongings of the passengers have also been recovered from the crash zone.