The Flash season 3 premiered on Tuesday and fans got to see Barry Allen leading a happy life with his parents – Nora and Henry – in the alternate timeline called Flashpoint. But things went downhill for Barry, as he soon discovers that he is losing his powers along with his memory of the previous timeline.
The Scarlet Speedster realised that he was being selfish by creating this alternate reality, hence he lets Eobard Thawne return to the past and kill his mother, thereby resetting the timeline. Back in the present, Barry learns that the timeline did not reset to perfection as many things have changed.
Here are five things fans can expect in The Flash season 3 episode 2:
Warning: Spoilers ahead, proceed at your own risk
1. The Flash season 3 episode 2 is titled, Paradox, which will air on 11 October at 8pm EST on The CW network. In the chapter Barry will realise that the effects from Flashpoint are much greater than he thought. He says in the promo, "I made a big mistake, I created another timeline."
2. Tom Felton will debut as Barry's new co-worker Julian Albert. Judging by the promos the Harry Potter alum is clearly not a fan of Barry as he tells the Speedster, "There is something not right about you."
3. Arrow's Felicity Smoak will feature in The Flash season 2, as she is seen talking to Barry about the new masked villain called Alchemy in the promo. "There is a whole new guy you don't even know about," Felicity says and Barry replies, "He doesn't like me very much." An optimistic Smoak replies, "You are like pudding, everybody likes pudding."
4. Cisco is not doing well, as in the promos he is seen in therapy and he is not happy to see Barry there. Cisco sarcastically remarks, "Now you want to be there for me?" To which Barry says, "Just trying to understand." Barry and Iris don't look too happy in the promo. She questions Barry about his weird behavior and later she asks, "You need to tell me what is going on Barry... right now."
5. John Wesley Shipp returns as Earth-3's Jay Garrick in episode 2 of The Flash season 3. The speedster tells Barry the consequences of his actions. He tells the Scarlet Speedster, "There are consequences of time travel. We are not Gods, we are men."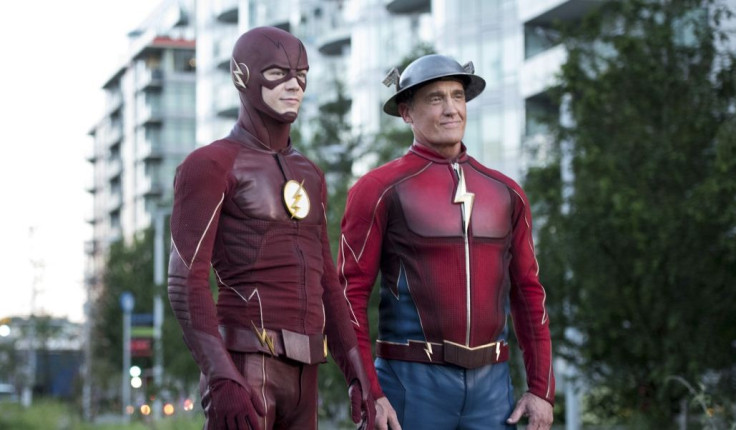 The synopsis of The Flash season 3 episode 2 reads as follows:
Barry (Grant Gustin) realizes the effects from Flashpoint are much greater than he thought. Meanwhile, Barry meets new co-worker Julian Albert (Tom Felton) and is surprised by Julian's immediate disdain for Barry.