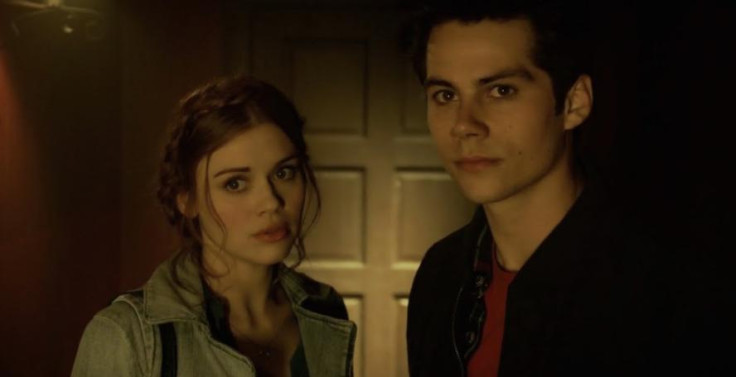 MTV has released a new trailer for Teen Wolf season 6, featuring a very memorable moment between Stiles Stilinkski and Lydia Martin. The final season of the supernatural drama will premiere on 15 November on MTV network.
The sixth season will find Stiles in danger of being erased from existence thanks to Ghost Riders'arrival in Beacon Hills, thereby prompting his friends, Scott McCall, Lydia, Malia Tate, and even Sheriff Stilinski struggling to keep him alive in their memories.
Stiles is seen holed up in his jeep with Lydia as Ghost Riders are seen everywhere. He holds Lydia's hands and tells her, "You're going to forget me. Find some way to remember me" after this he is taken away by one of the Riders. Then we see images of Scott, Malia trying to remember their friend, who seemed to have been erased from everywhere, even the group photos.
Lydia says, "I came to school this morning and I am sure I was suppose to meet someone," as Scott adds, "What of we are missing the same person." Stiles, who is trapped on this "other side" with Peter is hopeful that his friends will rescue him, as he says, " They will come for me."
The video ends with an emotional Stiles telling Lydia, "Remember.. that I love you!" Looks like season 6 will make Stydia fans very happy. Previously, showrunner Jeff Davis teased a "definitive scene" between Stiles and Lydia Martin in the premiere episode.
He told Entertainment Weekly, "Stiles is a big part of the season because a lot of this season's mystery revolves around him. We're going to see just what Stiles's friendship means to Scott, Lydia (Holland Roden) and Malia. We're going to see why exactly he's Scott's best friend; what it means that he's Malia's human anchor; and what his will-they-or-won't-they relationship is with Lydia."
The premiere episode of the MTV's show season 6 is titled Memory Lost, and the official synopsis reads as follows: