Team Flash will learn that Savitar is Barry Allen's evil version from the future, and will take drastic measures to prevent Barry from turning into the Speed Of God in this Tuesday's (9 May) episode of The Flash season 3.
According to executive producer Andrew Kreisberg, Team Flash will certainly be shocked by this turn of events in episode 21. He told Entertainment Weekly, "What's interesting about people's reactions — we certainly wrote it, but just the way the cast performs it — is it's one thing to have seen that giant metal suit and hear that there is a version of Barry inside of it. It's quite another thing when you actually come face-to-face with what's inside."
Watching Barry turn into the evil Savitar is both heartbreaking and terrifying, admitted Kreisberg. He told the outlet, "Those scenes that are coming up over the next few episodes, as everyone gets a real glimpse of this person, it's this mixture of both horror and sadness. His visage is obviously very upsetting – seeing the scar and the milky white eye, but also seeing the person that you love be so twisted," he told the outlet.
Episode 21 is titled Cause And Effect and will air on 9 May at 8pm EST on The CW Network. The official synopsis for the chapter reads as follows:
Barry (Grant Gustin) takes drastic measures to stop Savitar. Meanwhile, H.R. (Tom Cavanagh) continues to push Tracy Brand (guest star Anne Dudek) to design the trap for Savitar and Killer Frost (Danielle Panabaker) returns with an interesting proposal.
"Barry Allen, who probably has the gentlest soul of all of the characters in the Arrowverse, to just see how far he could fall, he's both terrifying, but it's also heartbreaking," he continued. "Watching Jesse L Martin, Candice Patton, Carlos Valdes — watching all of their reactions and interactions with Savitar when he's out of the suit, it feels so fresh and exciting for us."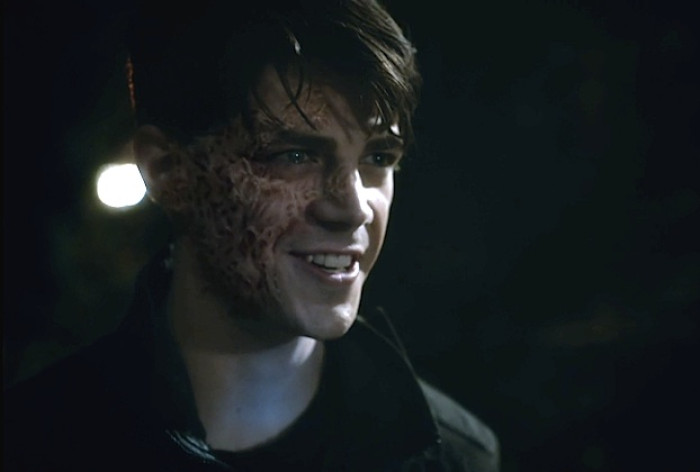 A promo for the episode shows the Star Labs team discussing how Barry will eventually become Savitar. Wally West says, "Savitar is a version of Barry from the future. He remembers everything that Barry does."
Cisco adds, "What if Barry cannot remember what we are doing now?" Later he says that he wants to stop Barry from making new memories. But the experiment results in Barry losing his memories.
Click here to watch The Flash season 3 live via The CW app. You can also watch the episode online by clicking here (only in the US).