The Flash season 3 is currently on a hiatus, and leaked set pictures have hinted that a major character may not make it alive when the show returns with the last five episodes of this season on 25 April on The CW Network.
Just Jared Jr has shared several set pictures from the show, wherein the lead actors, including Grant Gustin and Candice Patton are seen filming an emotional funeral scene. The images show the entire cast in black formal clothing (suits and skirts), looking very emotional.
Barry is seen holding Iris' face in an emotional embrace, as she cries. Not everyone from Team Flash is in the photos, a possible hint at who might die in season 3. Other than Barry and Iris; Joe (Jesse L Martin), Cisco (Carlos Valdes), Julian (Tom Felton), Wally (Keiynan Lonsdale), H.R. (Tom Cavanagh), Jesse (Violett Beane), Jay Garrick (John Wesley Shipp) and Gypsy (Jessica Camacho) are in attendance. Missing from the scene is Caitlin Snow, played by Danielle Panabaker.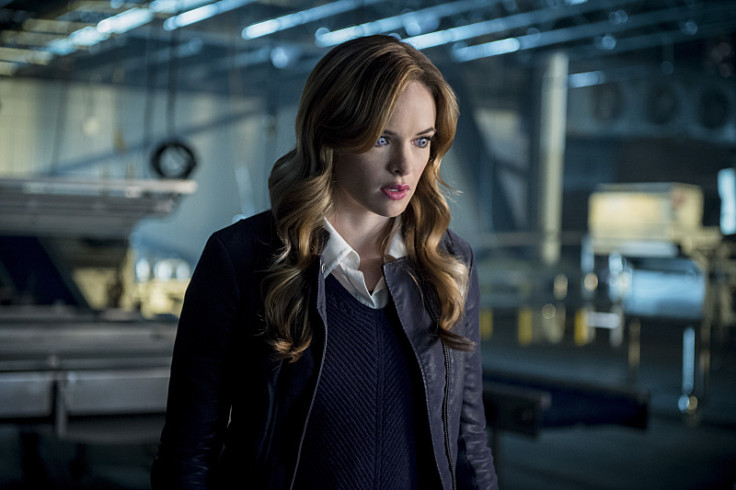 Will Caitlin die? In the previous episode, Snow was seriously injured and had nearly died, but the team decided to remove the necklace that controls her powers, saving her life but turning her into Killer Frost. Another potential contender whose death has been the driving plot of the season is Iris West.
That she is present at the funeral scene with Barry, could suggest that the scene is a dream sequence conjured by Barry himself. When Barry accidentally travels into the future, he sees his fiancee being killed by Savitar. The Speedster's efforts to prevent her doom by changing the future are not successful.
Patton, in a recent interview with Just Jared Jr, talked about whether her character will make it to season 4 of The Flash. She said, "No, they didn't tell me. I have no idea and it's a little alarming. I think I know, but you never really know. I am just in the dark as the audience so it will be really interesting to see if Team Flash can pull it off. I'm hoping they can, because I need a job."
The actress later came up with a plot idea, which involves Iris taking charge of her life, and saving herself. The 28-year-old told the publication, "Hopefully, we'll see a version of Iris who gets the strength to be part of saving her own life, to be a part of the narrative that ensures her safety. How cool would that be? She is a very capable woman, so how great would it be for a character like Iris, who has no superpowers, to be part of her own destiny?"