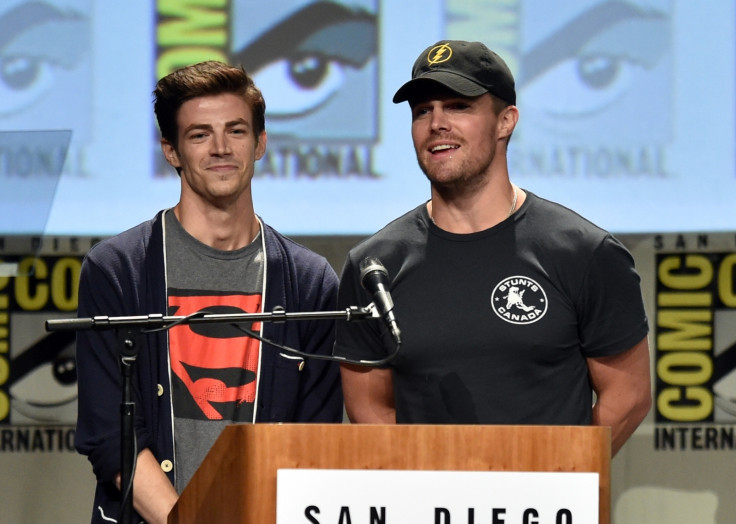 Actors Grant Gustin and Stephen Amell are stars of The CW's Arrowverse, with both of them often engaging in friendly social media banter. Gustin plays Speedster Barry Allen in The Flash show and Amell plays the Green vigilante, Oliver Queen, in the Arrow show.
Amell recently took to Instagram to post a screenshot of a post where Gustin cheekily commented on his co-star's Facebook live video saying, "You're a horrible person." Alongside the photo, Amell captioned, "I remember back in 2013 when @grantgust was a nice guy..."
The post has already garnered 246,227 likes (and counting) in less than 24 hours of its upload, as fans seem to be lapping up the friendly banter between the co-stars.
Quite a few users took to the comments section to share their views on the Instagram post.
Complimenting their friendship, one follower said, "Haha awesome! That's how you know you've truly become friends... you should hear how I talk to my friends once we are past the formality phase," while another noted, "Yes Grant, this comment is the funniest."
Referencing Barry's warning in the previous season, a user pointed out, "Calm down guys... in the last season Barry's future self told us to not believe anything he says."
A fan even hilariously found a reason to Gustin's rude comment. "It's the Speed Force that made him rude," the fan said, referring to Barry's triumphant return from Speed Force prison in The Flash season 4 finale, while another said, "He's not himself after the speed force!! Give @grantgust some snickers!!"
The Teenage Mutant Nina Turtles actor was recently spotted returning to Vancouver, Canada on Monday (9 October) to continue shooting in British Columbia.
A Just Jared report also claimed that both the actors have been spotted filming for a possible Flash-Arrow crossover episode.
Amell was spotted sharing a romantic kiss with Emily Bett Richards while filming the crossover episode on Tuesday (10 October) in Vancouver. Also spotted on set were Gustin and Candice Patton, and according to the report, both the on-screen couples were filming a double wedding scene on the waterfront.