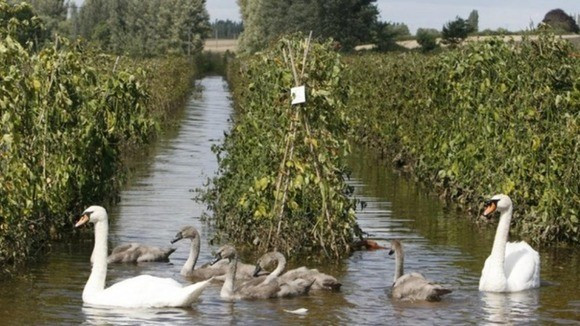 Flooding is expected across the United Kingdom on Sunday 27 January as ice thaws and heavy rainfall is forecast.
Over Saturday night flooding hit Carmarthenshire and Pembrokeshire in Wales as well as parts of Dorset.
In Norfolk, police have closed roads flooded by melting ice and snow.
The Met Office has now issued 53 flood warnings and 298 flood alerts in England and Wales, and seven in Scotland, and the number has been steadily rising.
The warnings come after freezing temperatures that blanketed much of the country in snow have started to rise, with the temperature forecast to reach 12C on Sunday 27 January.
Heavy rain is expected over the coming week, with blustery showers and sunny spells forecast.
Over Saturday night heavy rain fell in Cumbria and Scotland, while central and south-west England are expected to see about an inch of rainfall on Sunday, with the rest of the country expecting about half an inch.
The flood warnings are in place in East Anglia, south-west England, the Midlands, north-east England, north-west England and Wales.
The seven flood warnings issued by the Scottish Environment Protection Agency (Sepa) include the Scottish Borders, Whitesands in Dumfries and Galloway and parts of central Scotland.
Chris Burton, a forecaster for MeteoGroup, the weather division of the Press Association, said: "The rain started falling overnight in the west and will move east across all areas of the UK, with at least half-an-inch falling in most areas.
"The worst affected areas will be Wales and the south west.
"We have had some reports of flooding in south Wales which have had heavy downpours.
"There is also likely to have been some in north England and the Midlands where there is a large amount of snow melting.
"But from mid-morning the rain should lift and it should remain largely dry, with some scattered showers."
On Friday night snow and ice closed a stretch of the M6 near Wigan, stranding motorists in their vehicles.