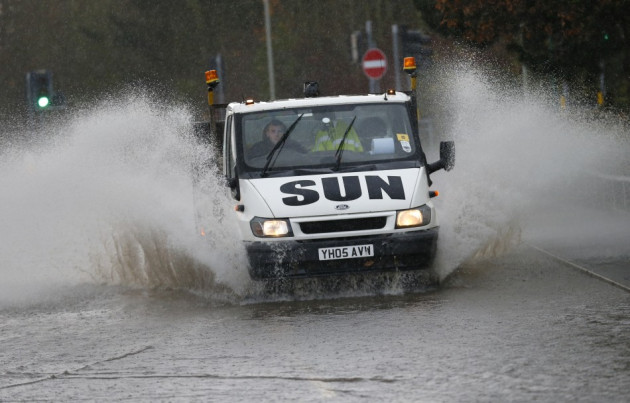 A number of motorists and passengers have been rescued after their cars were submerged in floodwaters as heavy rains returned to the south of England.
The Environment Agency has issued more than 30 flood warnings across southwest and southeast England. In some areas, more than 40mm (1.6in) of rain fell within 24 hours.
More than 200 flood alerts - meaning flooding is possible - have been issued across the north of England and Wales. The Met Office has also issued severe weather warnings for London and the southwest.
Heavy rain and flooding stranded two people in their car when it was submerged in deep water on the Sway to Brockenhurst Road in Hampshire.
A driver who was trapped by floodwater in Bude, Cornwall, was rescued by firefighters and in Hampshire a total of six people were pulled to safety.
In Devon, the county council has urged motorists to take extra care as the saturated ground is still struggling to recover from the November flooding.
County councillor Stuart Hughes said: "It is important that we are all alert to the potential of surface water and residual flooding, particularly in areas where the ground is already saturated and on minor roads where problems may not be brought to our attention straight away.
"I would advise everyone to be cautious when travelling, especially in the dark. In particular, don't drive too fast, and avoid driving through floodwater. There are likely to be many potholes underneath surface water which present a hidden danger so drivers need to be aware of those and also of increased breaking distances."
Devon and Somerset Fire and Rescue manager Alex Hanson added: "It is impossible for motorists to tell how deep water is or the condition of the ground beneath.
"There is a significant risk to life if motorists become stranded. We recommend that people do not make non-essential journeys if they live in areas prone to flooding."
An Environment Agency spokesperson said: "Large swathes of southern and southwestern England, southeast Wales and the Midlands are being warned to prepare for flooding.
"Successive bands of heavy rain are moving across England and Wales, and with the ground already saturated, this is likely to lead to property flooding from rivers and surface water as well as disruption to road and rail networks.
"Cornwall, Devon, Dorset, Hampshire, West Sussex and Northamptonshire are particularly at risk, and people are being urged to sign up to free flood warnings, check their route for disruption before travelling, and not to drive or walk through floodwater."