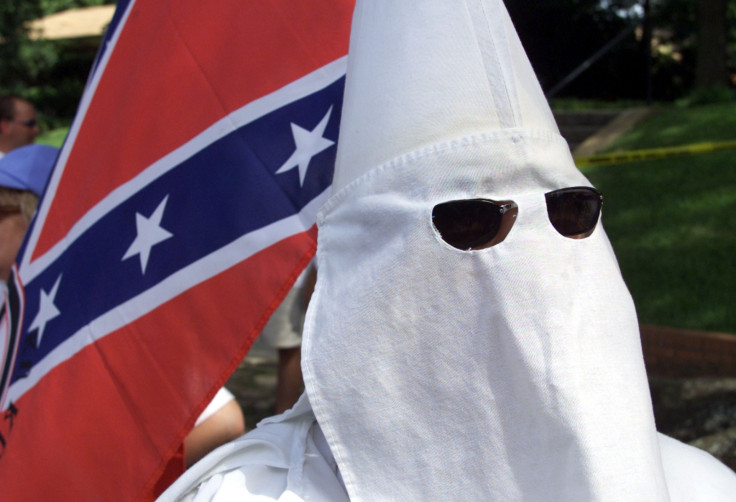 Three former Florida prison guards, with connections to the Ku Klux Klan (KKK), were charged with plotting to murder an African-American inmate, who they believed had HIV and hepatitis, on 2 April.
The three men were identified as Thomas Jordan Driver, 25, David Elliot Moran, 47, and Charles Thomas Newcomb, 42, WFTV reported.
Florida Attorney General Pam Bondi's office stated they were each charged with one state count of conspiracy to commit murder.
According to the attorney general's statement, the plot emerged after a fight broke out between the inmate and Driver.
WFTV reported that the inmate allegedly bit Driver during the fight. Driver and Moran were employees at the Florida Department of Corrections, while Newcomb was a former employee.
Authorities were informed of the murder plot by a confidential informant inside the KKK, WFTV reported.
According to the arrest affidavit, the informant was present and recorded the conversations between Driver, Moran and Newcomb, who was identified as the KKK chapter's "Exalted Cyclops" or leader.
FBI sting
An affidavit by the FBI revealed that Driver provided his Klan chapter a photograph of the inmate in late 2014. "Both Driver and Moran… told the (confidential informant) that they wanted (the inmate) 'six feet under'," it stated.
The informant then recorded the three men plotting to kill the inmate, who had been granted supervised release.
The murder plans ranged from shooting the inmate to injecting him with a fatal dosage of insulin, WFTV reported. The Miami Herald reported that Driver had also considered stamping on the victim's throat and kicking "his teeth out".
The Miami Herald revealed that Newcomb discussed taking the victim to the river to murder him.
"We could grab the package up and take him to the river, which is not far from him," Newcomb allegedly said. He added they would "put his a** face-down and uh, give him a couple of shots".
The trio then discussed chopping up the body for a "complete disposal".
In March, the informant showed the three men a doctored photograph of the inmate, who appeared to be fatally shot. The photograph, which was on a 'burner' mobile phone provided by the FBI, caused the men to celebrate and thank the informant.
Driver and Moran are now held in Union County jail, while Newcomb is in Alachua County Jail with a $750,000 bond. The case will be prosecuted in north Florida's Columbia County by Statewide Prosecutor Nick Cox.
The three men could be sentenced to a maximum of 30 years in prison, the Miami Herald reported.