An eight-year-old Florida girl died from injuries sustained when she drank boiling water through a straw. She reportedly developed a breathing problem after burning her mouth and throat.
State records show that the girl, identified by her parents as Kiari Pope, drank the boiling water after being dared by her cousin.
The injuries occurred in March, but took a deadly turn on Sunday (30 July) after the girl informed her mother's "paramour" about breathing trouble and soon became unresponsive, the Palm Beach Post reported, citing records from the Florida Department of Children and Families.
Read: Video of 2 drunken young men falling into 2,000ft deep gorge circulates online
The girl was rushed to a hospital where she was declared dead at 12:15am local time on Monday. The children and families department records call her "medically compromised".
The GoFundMe page set up by her family stated "Kiari was dared to drink hot boiling water by a cousin that was the same age as her, [after] they [had] seen a video from YouTube."
It added that she had underwent an emergency tracheotomy surgery - an incision in the windpipe - at the hospital, but it left her deaf and with chronic respiratory problems.
"Due to the fact Kiari had a tracheotomy the insurance refuses to pay for funeral arrangements. We need help assisting with Kiari's funeral and burial arrangements," the family wrote in the GoFundMe page.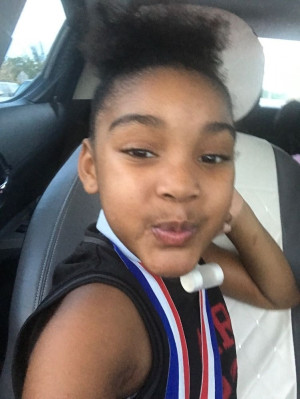 The state records reportedly also showed that there were at least nine other allegations of either abuse or neglect involving the girl since her birth. The cases came to light while state authorities investigated the March incident. Of the nine cases, four had allegedly taken place within the last seven months, according to the records. The most recent of those was in June.
Authorities also found incidents of alleged violence between the girl's mother and her "paramour."
"The loss of this child is truly devastating and our condolences go out to all those who loved her," Department Secretary Mike Carroll reportedly said in a statement on Wednesday (2 August).
"We have opened a child death investigation to examine the circumstances surrounding her death and will deploy a Critical Incident Rapid Response Team to review all interactions this family has had with Florida's child welfare system.
"We will also continue to work closely with law enforcement to support their continued efforts," Carroll added.