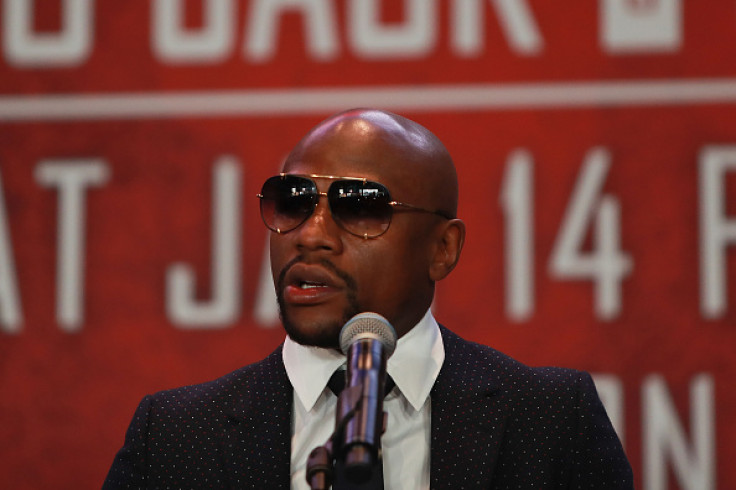 Floyd Mayweather has called out UFC star Conor McGregor yet again and admitted that he is 'interested' in making the fight happen. Talks about a mega-money boxing match between the two have been doing rounds with both camps taking pot shots at each other.
The now retired five-division boxing champion has urged UFC president Dana White and the Ultimate Fighting Championship hierarchy, to whom McGregor is contracted, to make the fight happen. Mayweather also labeled the Irishman being granted a boxing license in California a publicity stunt to garner more fans.
"The Notorious" as McGregor is popularly known has made it clear that he is ready for a fight and is confident that he will knock out the undefeated boxing champion, he even posted a picture of him standing with Mayweather's belts while referencing his previous domestic violence issue after hearing the boxer's comments on ESPN.
The 39-year-old American made it clear on what his side are offering McGregor to make the fight happen, and believes it will be his biggest earning to date, despite the Irishman being the most popular and marketable MMA fighter on the planet.
"You guys keep hearing all these different rumors about different fighters want to face Floyd Mayweather. Everybody keeps talking about Conor McGregor. He's blowing smoke up everybody's a**. Dana White, the UFC -- let's make it happen. Bring him over to the boxing world, and I'll show him what it's like," Mayweather said during his appearance on ESPN's First Take.
"We tried to make the Conor McGregor fight. They know what my number is. My number is a guaranteed $100 million. That was my number.
"We are willing to give him $15 million and then we can talk about splitting the percentage -- the back end -- on the pay-per-view. But of course, we're the 'A side.' How can a guy talk about making 20 or 30 million if he has never made 8 or 9 million in a fight," the now retired, undefeated boxing champion explained.
"Only thing I'm probably interested in is the Conor McGregor fight," Mayweather said, when asked about a possible re-match with Manny Pacquiao.
"I'm a businessman, and it makes business sense. I believe in what me and [adviser] Al Haymon talk about every day -- I believe in working smarter, not harder," he added.