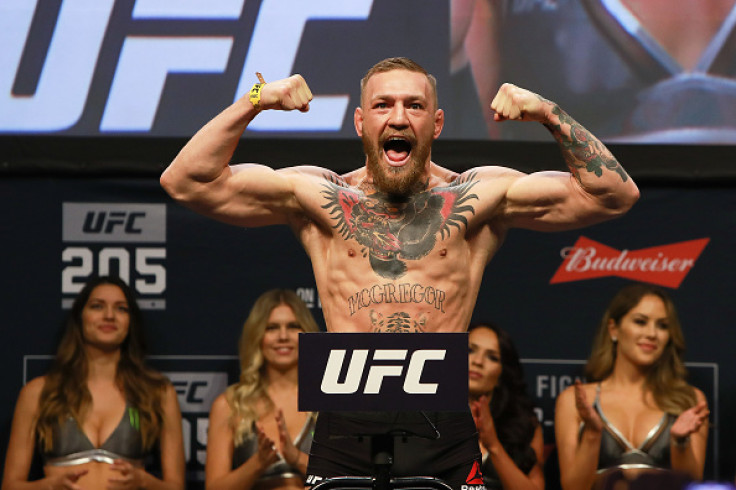 Conor McGregor has hinted that he could make a return to the octagon earlier than expected after admitting that the baby with his long-time girlfriend Dee Devlin in not due until May.
The Ultimate Fighting Championship's (UFC) first two-weight title holder was expected to take a long hiatus from fighting after his win over Eddie Alvarez in the lightweight title match. Dana White earlier revealed that it could be almost 10 months before The Notorious returned to action.
The Dublin-born fighter, however, has indicated that he could get in one more fight before the birth of his child while stating that he only wanted a break for Christmas unlike suggestions that he is taking time off from the sport to concentrate on family.
"I'm very excited about fatherhood; excited and nervous at the same time. I cannot wait," McGregor said, as quoted by the Sun.
"As far as a break, I know (UFC president) Dana White has been on record saying I'm taking 10 months off. I thought the baby was being born in March but it's May, so maybe I could get another one in," the Irishman revealed.
"I did say I was going to take a break but a Christmas break! It's the holidays, at least give me them off! We'll see what happens in the future."
McGregor also responded to the recent jibes by Floyd Mayweather Jr as talks continue about a multi-million dollar fight between the two superstars of UFC and boxing. The now retired five-division boxing champion mocked the Irishman after he attained a California boxing license stating that it was done merely for publicity.
Moreover, Mayweather also shared a video of McGregor tapping out during his previous fight against Nate Diaz and promised $10,000 (£7,984) to the person with the best caption. However, the UFC lightweight champion is confident that he can "conquer" the boxing scene as well and is not interested if it is Mayweather or some other boxer and labelled the American boxer's previous fight a "flop" in terms of pay-per-views garnered.
"Maybe I can conquer the boxing scene as well, that's a serious conversation thats happening. I've got the wrestling guys contacting me now, I've got Hollywood contacting me.
"(Mayweather's) last pay-per-view was 350,000 buys, it was a flop, it was a dud. I certainly don't need him. Of course that's the fight everyone wants to see but these things take time," McGregor noted.