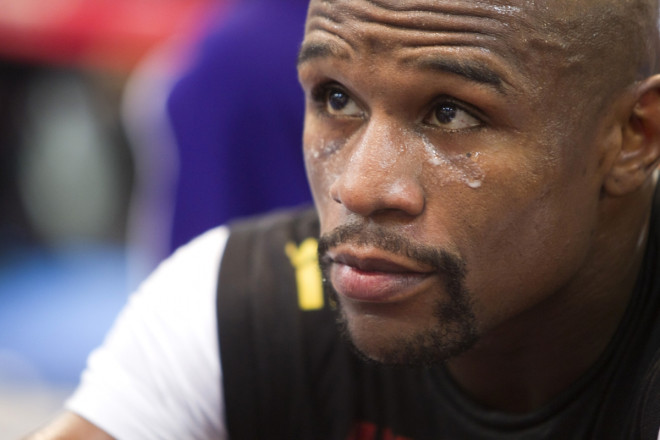 Floyd Mayweather Jr says he is very interested in buying the Los Angeles Clippers after owner Donald Sterling was banned for life by the NBA for racist remarks.
NBA commissioner Adam Silver announced Sterling's fate on Tuesday and will push the association's decision makers to force the 80-year-old into selling his stake in the franchise after 33 years' involvement.
The five-weight world champion, who takes on Marcos Maidana in Las Vegas in a unification match this Saturday, is a regular at Clippers and Lakers games and told reporters he is eager to take a controlling stake in the scandal-hit team.
"With me, I can't come in talking about Mayweather only gonna get three percent, four percent. I got to get a solid percentage," Mayweather told reporters at the MGM Grand, ESPN reports.
"Do we want to buy the Clippers? Yes, we do. We are very, very interested in buying the Clippers. We'll keep the Clippers right where they're at. When I'm not boxing, I'm at the games all the time. We do want to buy the Clippers. Me and my team do want to buy the Clippers and we can afford the Clippers."
Should Mayweather, the highest-paid athlete in the world, move forward in his bid to buy the Clippers, he will have to give up one of his favourite pastimes - high-stakes sports gambling.
The unbeaten welterweight reportedly pocketed €1.8m after putting down a spread bet on a game between his prospective team and the Memphis Grizzlies in 2012 and admits letting go of old habits will be the hardest part about buying the franchise.
"Once I get ownership in the Clippers I can no longer bet, so I have to stop that completely."
Mayweather is searching for his 46th career victory when he enters the ring with knockout specialist Maidana on Saturday.