Floyd Mayweather Jr warns Manny Pacquiao he will call the shots in fight negotiations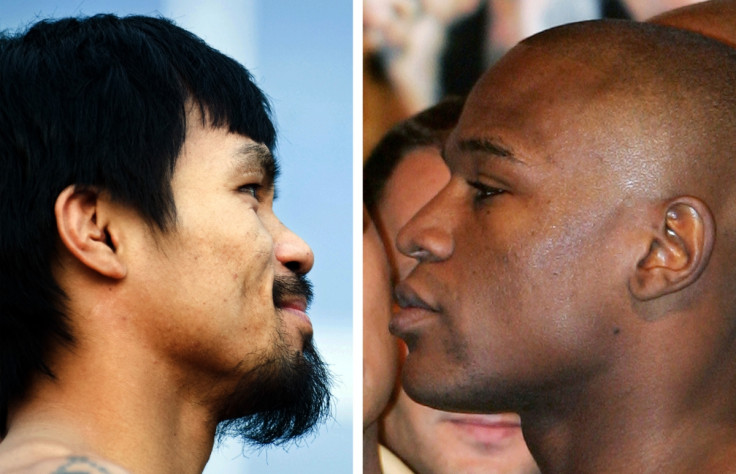 Floyd Mayweather Jr insists he will be calling the shots in negotiations with Manny Pacquiao and has told Top Rank CEO Bob Arum to stay out of the way when the two camps sit down to talk.
Mayweather, 37, broke his silence on Friday night and threw down the gauntlet which the boxing universe has been waiting for, challenging the Filipino fighter to a 2 May showdown.
A clash between the welterweight kings was initially derailed in 2010 amid disagreements over the fight's purse and Mayweather's demand that Pacquiao underwent Olympic-style blood testing.
But in an interview with Fight Hype, the five-weight world champion has hit out at Arum, the man who used to promote Mayweather before he morphed into the transcendent giant of the sport he is today, blaming him for being central to the delays in making the meeting with Pacquiao happen.
He said: "Bob Arum is in the way of the Mayweather-Pacquiao fight. People don't really understand business. I was once with the promotional company Top Rank. I left Top Rank to become my own promoter.
"It was hard doing business with Bob Arum when I was signed to his company, so if I am not signed to his company, you know it's going to be even harder because he's going to trying to do whatever he can do. Me knowing Bob Arum for 18 years, in my opinion, Bob Arum only cares about Bob Arum."
While Mayweather insists his team will handle the imminent negotiations like "true professionals," the unbeaten American is confident he still has the right to dictate terms as he is on the 'A-side', something Pacquaio cannot compare with given his deteriorating pay per view buy rates in the US.
"I'm not 100 percent sure, but from what I've been told, he hasn't even reached 300,000 homes (300,000 PPV buys for his November victory over Chris Algieri).
"And not taking nothing away from the guy, I don't really know his name, Algieri, he tried his best from what I heard, but Algieri and [Marcos] Maidana (Mayweather's last opponent) are totally different fighters.
"I'm the A-side," he added. "So if I'm the A-side, the A-side calls all the shots. Mayweather Promotions, Showtime Pay-Per-View, 147 unification bout, and that's basically it."
© Copyright IBTimes 2023. All rights reserved.