Floyd Mayweather and Manny Pacquiao open to rematch as Amir Khan challenge re-surfaces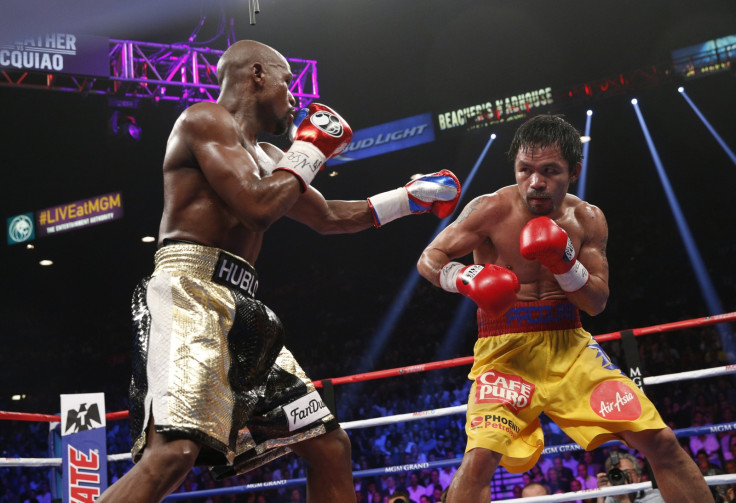 Floyd Mayweather Jr and Manny Pacquiao would both be open to a rematch in 2016 after the Filipino fighter undergoes shoulder surgery.
Pacquiao has been ruled out for between nine and 12 months after suffering a significant tear in his rotator cuff prior to the bout which the 36-year-old blamed as the reason behind his unanimous points defeat to Mayweather on 2 May.
A law suit has been filed against Pacquiao and promoter Top Rank for the failure to disclose the injury, however, both the six-weight world champion and his representatives claim the United States Anti-Doping Agency were aware of the shoulder problem.
Despite facing a lengthy absence from the sport, Pacquiao's first fight upon his return to boxing could be a rematch against Mayweather after the pair informally agreed to a second bout in 2016.
Mayweather is understood to have messaged ESPN reporter Stephen A Smith, "I will fight him in a year after his surgery," after prevailing in a bout which is expected to have smashed box office records when figures are released later this week.
Top Rank chief executive Bob Arum added to ESPN: "I think we now know what the pitfalls were. And, ultimately, with all the aggravation and trouble, look at the pot of gold that we both produced.
"I think there will probably be less aggravation in a rematch. We understand each other better now. There's a real possibility it could work even better.
"I think the wisest course of action is for Floyd to wait. We first have to make sure the rotator cuff heals well. Dr El Attrache is a famous surgeon, one of the best in the business, so I'm confident the surgery will work, and if it does, why wouldn't we entertain a rematch?
"The fact that he won the fight, what does that mean? The two of them together created such a bonanza -- numbers we've never seen before -- and without Manny, who could Floyd create a bonanza like that with?
"And without Mayweather, who is Manny going to fight to create as much money? Maybe we should get more than the 40 percent. They need each other to create this kind of money."
Any rematch would see Mayweather's career extended into a 20<sup>th year and beyond his expected retirement in September when his current contract with Showtime expires.
The welterweight is still likely to compete in September however he may now target eclipsing Rocky Marciano's 49-0 record in a 50th professional fight.
Though relations between the two fighters are good after the pair embraced following the contest in Las Vegas, the social media jibes between the two has continued amid Team Pacquiao's insistence the shoulder injury played a role in the result.
In a post on his Instagram page, Mayweather said: "19 years in the fight game and I've had one excuse: 'Don't have an excuse'. Winners win and losers have excuses."
Pacquiao, who is two years Mayweather's junior, will continue his career beyond surgery and could yet stage his next fight in the United Arab Emirates after several thwarted attempts to fight in Dubai.
Akbar Productions LLC president M Akbar Mohammad told the Khaleej Times: "We are looking at the possibility of having [Manny] Pacquiao's next fight in Dubai. Now Manny requires a shoulder surgery. So we are looking at a fight in spring next year, probably against Amir Khan.
"We are now looking at two fights here. The first one probably will be in October/November this year. There is a possibility of having Khan and a top Russian fighter. I would also love to see a Russian champion against an Ukrainian champion here.
"Before the mega fight in Vegas, Arum had told me that Pacquiao's next fight would be in Dubai. That could happen next year.
"Manny would have preferred to do the Fight of the Century in Dubai in stead of Vegas because of the tax issue. Dubai is tax free. I am sure every fighter would prefer to come here. In the US they have a 39 per cent tax. It's one heck of a hit on the head."
© Copyright IBTimes 2023. All rights reserved.