Legendary trainer Freddie Roach has revealed that he is waiting for a response from Floyd Mayweather after an offer was made on behalf of his fighter Manny Pacquiao.
The two future hall of fame fighters have repeatedly failed to agree terms on a mega fight that would go down as one of the biggest bouts in the history of the sport.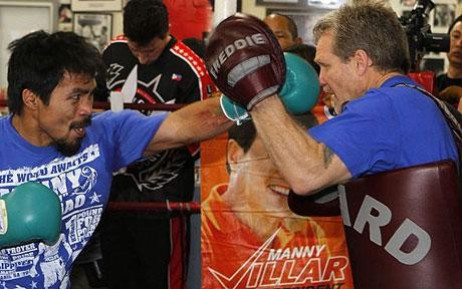 Mayweather has demanded that there be stringent drug testing in place for any fight, whilst also demanding a higher percentage of the earnings, two clauses that Pacquiao has recently agreed to meet.
It has remained impossible to make the fight as Pacquiao prepares to face Juan Manuel Marquez for a fourth time, while Mayweather was sentenced to a short spell behind bars earlier this year.
However, it seems as though the Pacquiao camp has made an offer to Mayweather as they propose the two fighters settle their difference in the ring next year.
"I still think Manny has some good fights in him," Roach told Sky Sports. "We still want the Mayweather fight to happen. We are kinda waiting for him to come round, but if he doesn't there are other fights out there."
While Mayweather has remained undefeated, Pacquiao suffered a surprise loss to Timothy Bradley in his last outing, his first defeat in seven years.
Fans of the sport continue to argue over who is the best pound-for-pound fighter and will be desperately hoping that the fight can be made over the next 12 months.
First Pacquiao must make sure he defeats Mexican legend Marquez, who many suggested should have been awarded the verdict the last time they met.
Nevertheless the Filipino fighter appears ready to do battle once again as he bids to prove once and for all that he is superior to Marquez.
"I'm excited and ready for the fight, ready to rumble," said Pacquiao. "Everything, all is set and in God's hand, what is going to happen on Saturday."