Shortages of food, medicines and other basic goods are pushing Venezuelans close to the edge. There has been increasing unrest in the last few weeks as a fourth straight year of recession and the world's highest rate of inflation mean millions are unable to eat three square meals a day and malnutrition is on the rise.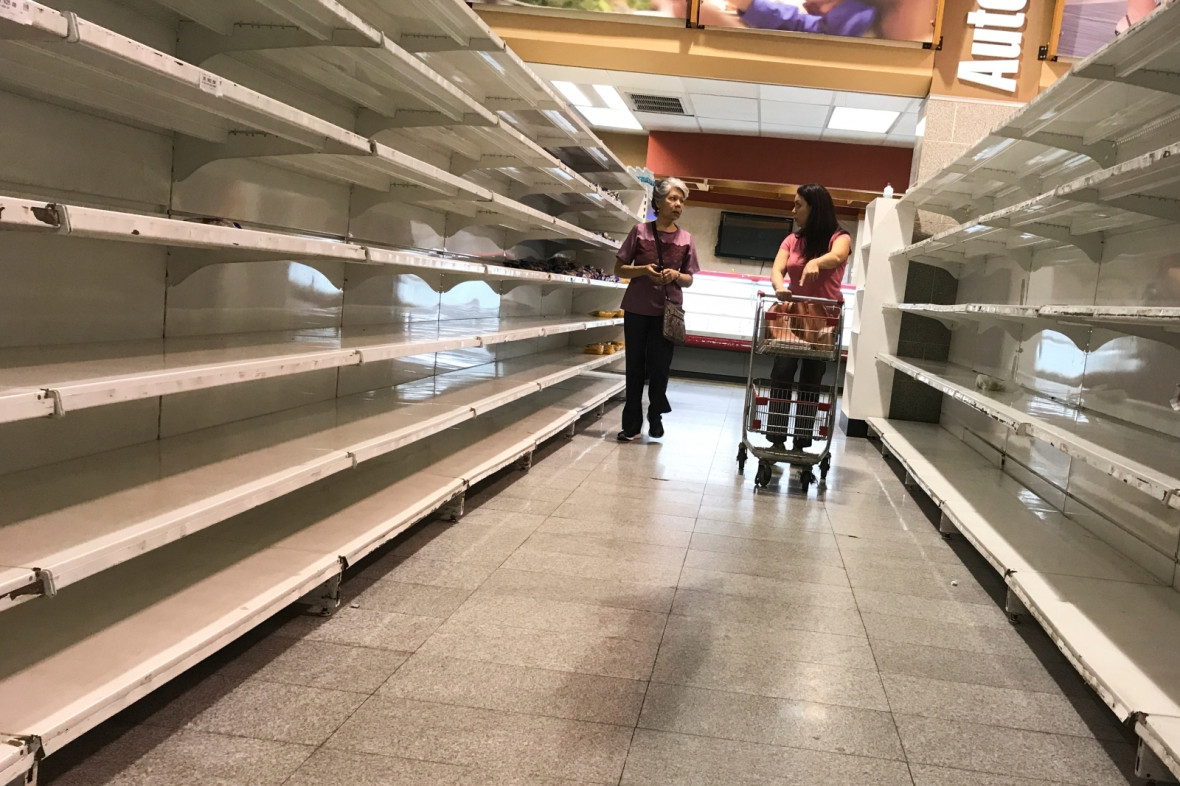 The government of socialist President Nicolas Maduro hasn't released any official economic figures, but the opposition-controlled legislature says inflation in the economically struggling nation reached a staggering 2,600 percent last year.
The country's currency is in freefall. In just one year, the bolivar has weakened 97.5 per cent against the US dollar, meaning $1,000 of local currency purchased then would be worth just $25 now.
Supermarket shelves and fridges are empty, and the prices of the few goods that are available can change every day.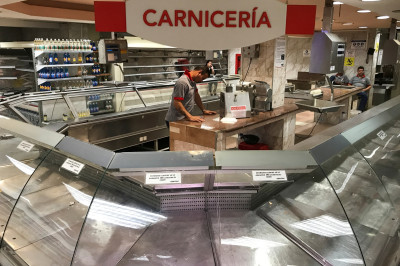 Many of Maduro's attempts to fix the problems have only made things worse. On New Year's Eve, the government increased the minimum by 40 percent, a move that will surely exacerbate what many economists already consider hyperinflation. Venezuelans will now earn some 797,510 bolivars a month, factoring in food tickets, or about £5.20 ($7) on the widely used black market index.
The government also ordered shops to slash prices, creating chaos as desperate Venezuelans leapt at the chance to buy cheaper food. Critics say this policy will dissuade supermarkets from stocking their shelves and could trigger looting. Grocery shops and liquor stores have recently been looted across the country.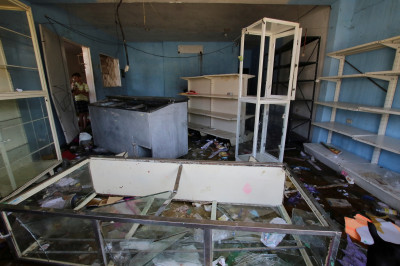 On Saturday (6 January) more than 200 supermarkets were ordered to cut prices back to the previous month's levels. News of the discounts spread like wildfire, leading hundreds to mass in front of stores before daybreak. When one major supermarket in wealthier eastern Caracas did not open for hours, people began pounding on the storefront. "We're hungry! We want food!" screamed the crowd.
Reuters reported that armed National Guard soldiers later arrived at the store and ordered people into lines, warning that they would not be allowed in otherwise. They eventually let the crowd through in small groups just before midday, but people quickly emerged disappointed as only crackers and washing-up liquid were discounted.
"I can't feed my kids with this," Jesus Gudino, a 29-year-old taxi driver and father of three, told Reuters, sneering at the small plastic bag in his hand. "I've been here since 4am. This is a mockery. What can I do? I have to leave this country."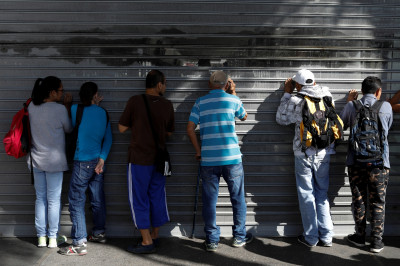 Countries across Latin America and beyond have received a growing number of Venezuelans fleeing economic hardship. An estimated 550,000 people have migrated to Colombia, crossing the porous 2,000-kilometre (1,242-mile) border.
Of those, some 200,000 have come in just in the last six months, threatening to overwhelm Colombia's limited resources.
Venezuelan authorities allege the smuggling of products out of the country to neighbouring states is one of the causes of the severe shortage of food and other basic products that the country has been facing for years.
Venezuela has now cut air and maritime ties with the nearby Dutch Caribbean islands of Aruba, Curacao and Bonaire, blaming out of control smuggling.
Like many of Maduro's "solutions", this one may make the situation worse. Maria Carolina Uzcategui, president of Venezuela's largest chamber of commerce, said the ban will increase shortages at home because merchants buy goods from the Caribbean islands that are scarce in Venezuela.
Venezuela has the world's largest oil reserves, but low production by the state oil monopoly and the global drop in crude prices has thrown it into crisis. There have been scattered protests and roadblocks around the nation in recent weeks over food shortages, power cuts, high prices and fuel rationing.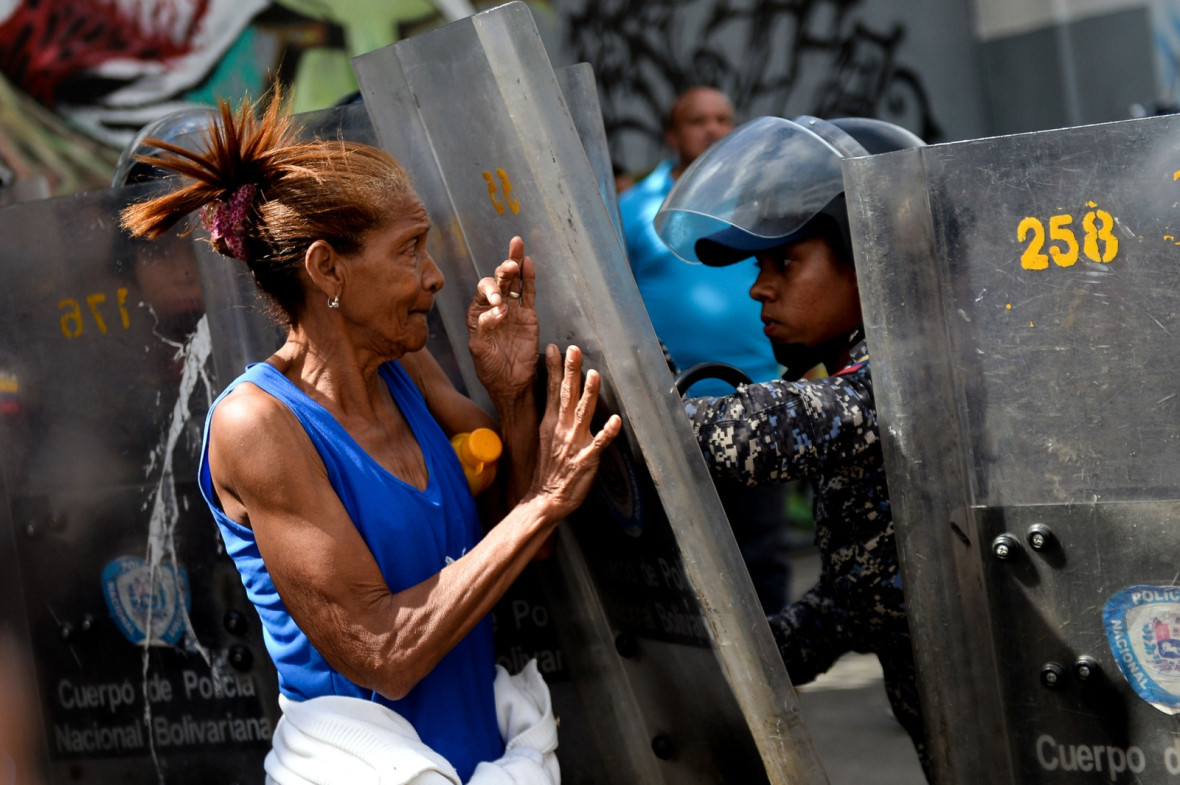 Maduro faced four months of almost-daily protests in 2016, as Venezuelans called for early elections, humanitarian aid to combat food and medicine shortages, respect for the opposition-led congress, and freedom for jailed activists.
More than 120 people died in the unrest, with victims including demonstrators, government supporters, security officials, and bystanders. The opposition and government agencies reported varying tolls and causes of death that focused blame on the other side. Security forces were accused of using 'excessive force' against protesters, including causing deaths by firing tear canisters at close range.