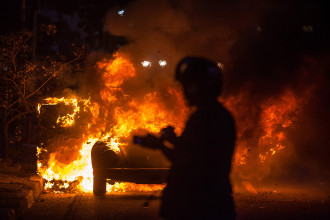 A fan was killed in violent skirmishes outside a football stadium in Sao Paulo, Brazil, when he was struck by a toilet bowl thrown from the stands.
News website globoesporte reported the accident happened after Recife club Santa Cruz drew 1-1 with visiting team Parana in a second division match.
A fight broke out on the perimeter to the 60,000-seater Arruda Stadium with fans ripping out toilet bowls and throwing them at rival supporters on the streets below, resulting in the death of a man.
"In front of Gate 6 there was a big fight that resulted in the death of the fan," police captain Wilson Queiroz told local media. "The toilet was thrown from the stands and hit him full on.
"The victim was with someone at the time but everyone fled the scene after the incident," he added.
Football violence marred the end of last season when fans clashed in the southern city of Joinville and angry supporters of the Corinthians invaded the club's training centre in February, attacking several players.
Brazil's veteran centre forward Fred revealed how fans of his team Fluminense had physically threatened him.
Brazil is under close scrutiny as the host to this summer's World Cup. There have been several fatal accidents during the building of football stadia around the country.
A crane collapsed at the Sao Paulo stadium killed two workers in late November, another worker died at the Sao Paulo stadium in March, and three others were killed in accidents at the Arena de Amazônia, the Manaus stadium that has also missed completion deadlines.
The majority of these deaths have happened during Brazil's race to complete stadia. In contrast, just two workers died building football stadia for South Africa's 2010 World Cup.
Less than 60 days from the first match of the World Cup, three host stadiums remain incomplete, including the Sao Paulo arena that is scheduled to host the tournament's opening match on 12 June.
At least 39 murders were committed during a two-day police strike in and around the northeastern city of Salvador.
Fifa secretary general Jerome Valcke said the crime rate and violence in Rio will not affect Brazil's hosting of the World Cup.
Rio, which will stage seven matches, including the 13 July final, was the setting for angry protests and clashes between residents of a slum district and police.
Trouble broke out after a dancer was found dead, with friends and family claiming he was killed by police. In the following protests, a 27-year-old man was fatally shot.
"It is a tragic episode which causes sadness but it is not sufficient to say the Cup is at risk," Valcke told reporters.
"I have received several messages asking me if there is a civil war in Brazil and I have replied no," he added Valcke.