The 2015-2016 Barclays Premier League is over and club fans will now turn their attention to their team's potential star signings. Football Whispers – the world's first football predictor website and smartphone app – is hoping to pinpoint where exactly the biggest names might be heading in the summer transfer window, so supporters can concentrate on Euro 2016 without having to scour the internet to verify every rumour.
Using a "complex algorithm", the app calculates the likelihood of a transfer taking place by pooling data from news sources and assigning a 'unique index score' which identifies the likelihood of a specific player signing for a particular club. The scored predictions are based on the volume of reports (which the site calls 'chatter'), the authority of the sources and the timeliness of the stories.
The app, which has tracked 19,623 players across 35 international football leagues so far, deployed the algorithm in a test phase during the 2016 January transfer window and its developers claim it managed to predict Henry Saivet's move from Bordeaux to Newcastle United a full two weeks before the Senegalese midfielder put pen to paper.
CEO Vivion Cox also revealed that Football Whispers has partnered with Sky Sports and FourFourTwo magazine to help power their respective transfer coverage with its unique rumour-scoring technology.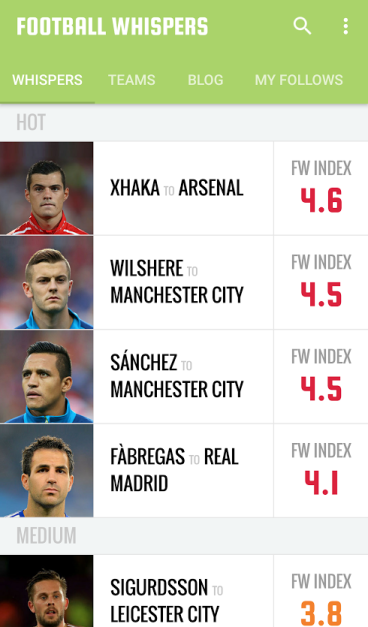 How it works
In an attempt to weed out unsubstantiated reports and pie-in-the-sky rumours, Football Whispers determines the authority and veracity of sources based on the domain's historical data. Cox explained to IBTimes UK that certain respected news outlets and football writers/bloggers are whitelisted by the algorithm, while data taken from social media is assigned a 'clout' score based on the account in question (as well as ignoring retweets).
The digital platform was developed in collaboration with researchers at the University of Sheffield. Professor Fabio Ciravegna from the department of computer science noted the difficulty in finding a way to analyse the murky waters and muddied pitches of the football rumour mill. But stressed that the Football Whispers algorithm, which he explains combines "large-scale text processing, machine learning, data science and visual analytics with a large scale architecture", is an innovative and scientific way of turning "whispers into a transfer prediction score".
A calculated gamble?
Aside from collecting and sifting through "millions" of data streams for transfer news-hungry football fans, the platform – available as an app for both iOS and Android – could also find favour among the betting community, especially for those partial to a flutter on deadline day when rumours and speculation ramp up to fever pitch. Football Whispers founder Dr. Mo Sacoor certainly sees a bright future for the platform, stating: "We have ambitious plans to continually develop the technology, capabilities and offering available to Football Whispers users that will allow football fans to stay close to teams and their players at all times."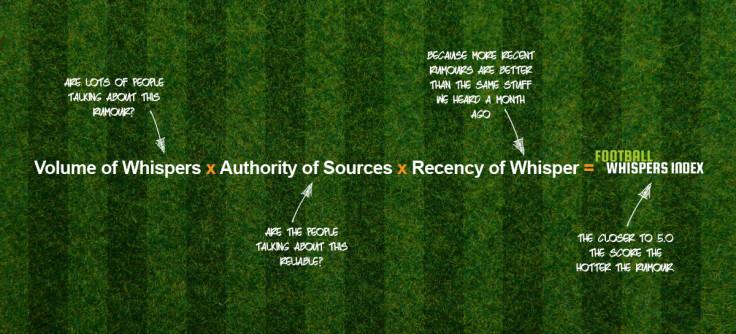 After beta testing, football fans can now try the site out here, or download the app for free from either the Apple App Store or Google Play Store.