It may now have a lower market cap than Tesla, but Ford has been ranked as the number one company when it comes to developing self-driving technology and getting it on the road.
Research conducted by professional services company Navigant has ranked traditional car companies comfortably above technology firms. Put simply, the car makers are learning how to develop autonomous technology more quickly than the technology companies are learning how to make cars. The news comes a day after Tesla's $48bn (£39bn) market cap overtook Ford ($45bn).
After Ford comes General Motors, the Renault-Nissan Alliance and Daimler in Navigant's highest-ranking group, called Leaders. The second group, Contenders, is led by Volkswagen Group and BMW, who are followed by Waymo, formerly known as Google's car division, Volvo, Delphi and Hyundai.
Ford stated in 2016 that it plans to have a fully autonomous vehicle driving on public roads with no steering wheel or pedals by 2021. It invested $1bn in a self-driving startup called Argo AI in early 2017 and is currently working with a fleet of autonomous Fusion saloon cars capable of driving themselves.
Tesla, which recently announced record sales and is on track to deliver 100,000 cars in 2017, is also in the Contenders category, but failed to make the top 10. The third category, called Challengers, is home to Honda, Chinese firm Baidu, and Uber. A fourth and final sector, called Followers, currently has no members.
Navigant senior research analyst Sam Abuelsamid said: "In the race to make automated driving a successful commercial reality, hype may get companies all the media attention, but a fully realised strategy combined with the ability to execute are keys to success. This is why Ford, GM, the Renault-Nissan Alliance and Daimler are the leaders".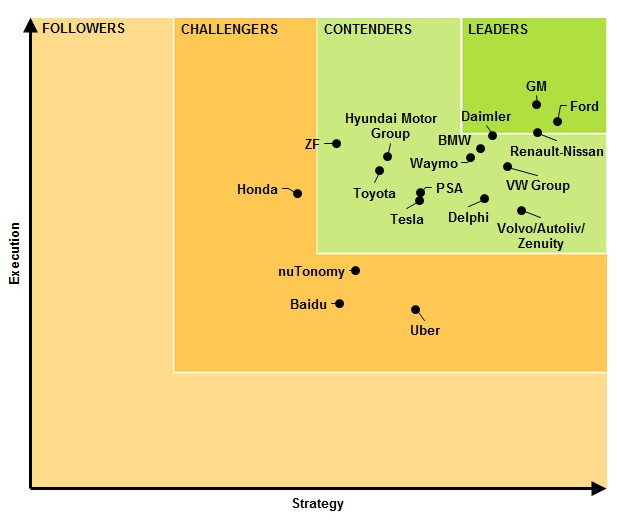 The rankings by Navigant were created by considering the strategy and execution of each company's autonomous car initiative. The company then looked at which companies are currently leading the field in their development of self-driving technology, which are best positioned to take the lead if they aren't already ahead, and what factors separate Leaders from the Contenders and Challengers.
What about Tesla and Autopilot?
Navigant's ranking will likely be a surprise to Tesla fans and customers, given the Autopilot feature fitted to the company's Model S and Model X cars is arguably the most advanced currently on sale. Autopilot takes (supervised) control of the accelerator, brakes and steering on roads with clear lane markings, like motorways. The hardware fitted to every Tesla now leaving the factory will be capable of fully autonomous driving once the software (and legislation) has caught up, Tesla claims.
But, as Abuelsamid explains: "Assembling a suite of sensors and writing the basic software to control a vehicle are actually the easy parts. Before that package can become a real product, you need a vehicle." Developing the technology underpinning autonomous driving is one thing, Abuelsamid says, but designing, building and selling a car is another. "In order to commercialise a system, [Google] will need to invest billions more and manufacturer vehicles or find an automaker partner willing to supply cars."
Based on its delivery of 100 Chrysler Pacifica minivans to Google, this could be what Fiat Chrysler Automobile has planned.
The researcher adds: "The world's major automakers already have the engineering and manufacturing infrastructure in place, and many of them have been working on autonomous technology for far longer than Silicon Valley. Major automakers understand the intricacies of developing, validating, and certifying vehicles for profitable production."