A protest over the death of Edir Frederico Da Costa, a 25-year-old black man who died after being stopped by police in east London, left several officers injured.
The protest outside Forest Gate police station saw objects including bricks, fireworks and bottles thrown at officers and fires set off in the street before the demonstration moved on to the Stratford area.
The protest was sparked by the death Da Costa, who died after being stopped in his car in Beckton, Newham, on 15 June.
An Independent Police Complaints Commission (IPCC) investigation found that police used force and deployed CS spray while detaining the 25-year-old, also known as Edson. His family said Da Costa died after he was "brutally beaten" by police.
A post-mortem concluded there were no injuries to suggest severe force was used.
The IPCC later contacted the family of Da Costa to say tests found he did not suffer a broken neck, or any other spinal injury during his interaction with the police, and he did not suffer a broken collarbone or bleeding to the brain as previous reports suggested.
On the evening of 25 June, protesters carrying Black Lives Matter posters and placards reading 'Justice for Edson' gathered to demand answers for the incident, which is still under investigation.
After a planned minute's silence, the demonstration turned violent, with some protesters hurling missiles at officers outside the police station. A small number of fires – involving the contents of litter bins – were also set off in the street and were quickly distinguished the London Fire Brigade.
The crowd began to disperse into smaller groups around 11pm, before more items were thrown at police. A total of 14 officers were injured, including a male police sergeant who was knocked unconscious after an object struck his helmet, as well as officers with neck, leg and wrist injuries. Two police cars were also damaged during the protest.
Police said many of those who were involved in the disorder against the officers had not been taking part in the original protest.
It is not believed any members of the public were injured during the disorder. Five people were arrested in the wake of the violence - Three males aged 16, 22, and 26 were arrested on suspicion of criminal damage. Two other men, aged 19 and 26, were arrested on suspicion of violent disorder. The 19-year-old was also arrested for criminal damage.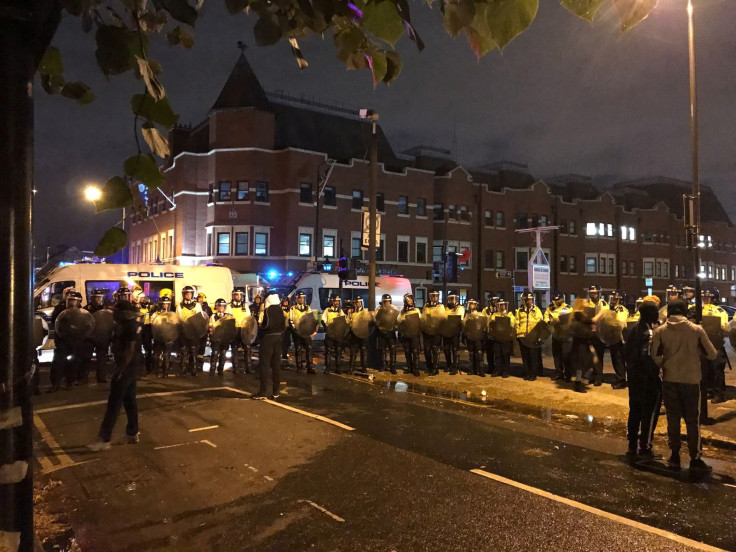 Borough Commander Ian Larnder said: "Whilst we will always support the right for lawful protest, the events of last night cannot be justified. Not only were our officers confronted by violence, with several of them being injured, but local residents were severely disrupted.
"Behaviour such as that seen overnight will not be tolerated and an investigation will begin to identify those individuals who targeted our officers."
An IPCC spokesperson said: "Rigorous investigations into the cause of Mr Da Costa's death are continuing, including into the use of force.
"We are releasing this information now out of concern at the rapid spread of false and potentially inflammatory information.
"Our robust and independent investigation will seek to explain the circumstances around Mr Da Costa's death. In the meantime, false information could have very dangerous consequences, so please don't share it."
This article has been updated to include the rise in number of injured officers and number of suspects arrested.