Jose Dirceu, a top aide to former Brazilian president Luiz Inacio Lula da Silva, has been released from jail, pending an appeal. But the apex court of the country has now said that the former politician could be put under house arrest.
Dirceu was arrested in August 2015 after being linked to a massive corruption scandal dubbed Car Wash. He was handed a 32-year prison sentence following his conviction in May 2016 on charges of accepting bribes, laundering money and having criminal links.
Hundreds of people have been interrogated and some of them arrested in connection with the Car Wash scandal, investigation into which started in 2014. The money laundering case involved state-owned oil company Petrobas, among others.
On Tuesday, 2 May, investigators brought fresh corruption allegations against Dirceu, soon after his release. Prosecutors accused him of taking 2.4m reais ($755,880, £585,126) in bribes from two engineering firms, UTC Engenharia SA and Engevix Engenharia SA.
They also accused the former chief of staff to President Lula of using the money to improve his image, before, during and after a 2012 trial, in which he was convicted of paying coalition parties for political support.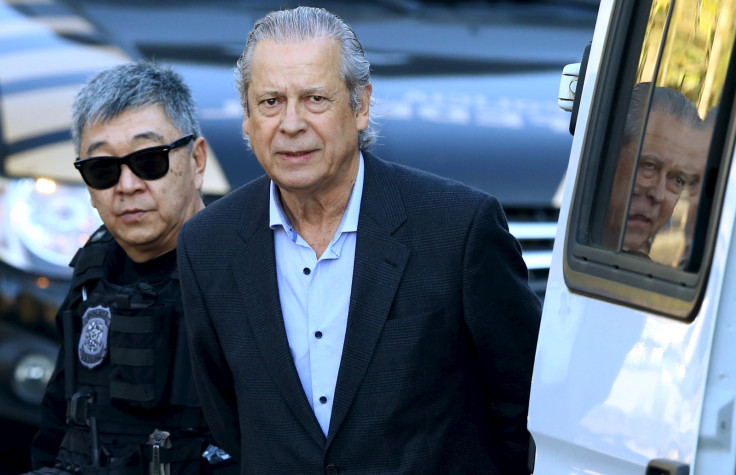 The investigation's chief prosecutor, Deltan Dallagnol, criticised his release. "Jose Dirceu's freedom would pose a serious threat to society because of the seriousness of the crimes committed as well as the repetition of those crimes and the influence he has on the party's system," Dallagnol said.
"A fact we see more and more in the 'Car Wash' is that corruption has permeated various levels of the government, which means that changing government won't have an impact on the possibility of new crimes," he added.
Once one of the most powerful figures in the government, 71-year-old Dirceu was seen as a possible successor to Lula, but his involvement in the corruption and money laundering sandal lost him the chance.
In 2011, Lula was succeeded by Dilma Rousseff, who was impeached in 2016 for damaging Brazil's economy through illegal budget manipulations. But she was never officially accused in the corruption scandal, the BBC reported.