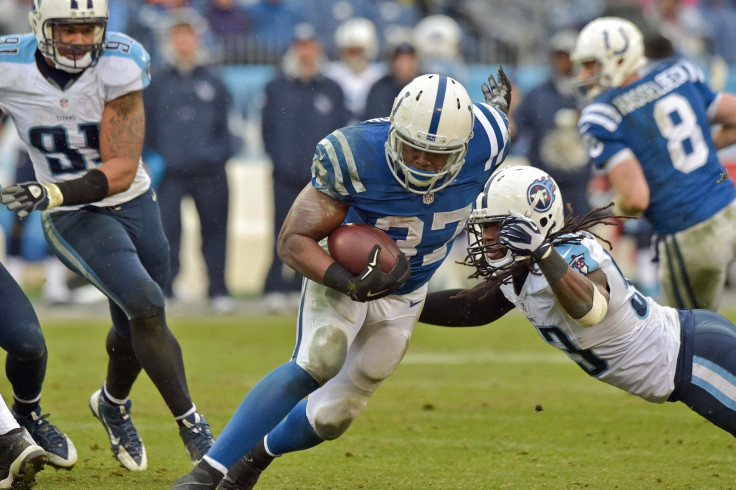 A former player for the US National Football League (NFL) fatally shot himself as he was packing a duffel bag carrying two guns in his Jeep outside a Michigan car dealership, it was reported on Tuesday 28 June.
The accident occurred seconds after one-time Indianapolis Colts running back Zurlon Tipton, 26, reached into the trunk of his Jeep to retrieve the bag in Roseville, located near Detroit.
He was in the process of having his Jeep serviced at the dealership and was placing personal belongings into the bag to take with him when the gun discharged, striking him in the stomach, reported the Indianapolis Star.
Tipton was conscious for a time and speaking as paramedics raced him to a local hospital, where he died.
The handgun that killed him was a .45-caliber semi-automatic that belonged to Tipton, who had a concealed pistol license, said local Police Chief James Berlin. Both guns were registered to Tipton.
Tipton had been linked to a previous shooting incident which involved loaded guns in his Jeep, according to police.
He was arrested in late 2015 for illegally firing a semi-automatic rifle in a residential neighbourhood. When police stopped him fleeing the scene in his car, he had a loaded 9mm handgun and a loaded Colt AR-15 assault rifle inside the Jeep, police said. Prosecutors ultimately declined to pursue a case against him.
Tipton played football for Central Michigan University before moving up for a short time to the Colts. According to those closest to him, Tipton was an affable teammate and regarded as one of the most popular players in the locker room.
"This really messed me up," said fellow running back Frank Gore. "Zurlon was a good dude. He really wanted football to work out. He was a great person. He loved to have fun."
Recently, the debate over gun control laws in the US has reached a fierce level, with a recent report of a young boy of 6 accidentally shooting his brother, 4, with a pistol earlier in June 2016.