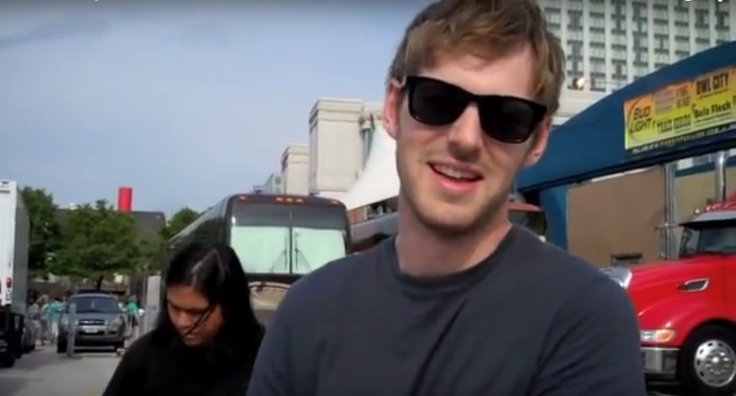 Former Owl City band member Daniel Jorgensen was indicted on charges of attempting to lure a teenage girl to his hotel room and engaging in criminal sexual contact with the teen while on tour in Atlantic City in 2013, Atlantic County Persecutor Jim McClain announced on 5 August.
The 30-year-old from Minnesota faces up to 10 years in prison for the first charge and up to 18 months in prison for the fourth degree sexual contact charge, Philly.com reported. Jorgensen's bail was set at $100,000 (£64,026) cash or bond by Superior Court Judge Bernard E Delury.
According to the indictment handed on 4 August, Jorgensen contacted the 14-year-old girl on the internet and by mobile phone. The prosecutor said he "encouraged her to come to Atlantic City where he was working as a musician and band manager on August 29 2013."
The charges add that the musician "committed the criminal sexual contact on an Atlantic City beach, and tried to lure the girl to a hotel room and to the band's tour bus, with the purpose of having sexual intercourse."
The former musician was once part of the band Owl City along with fellow musician Adam Young during the alleged incident. He was kicked out in December 2013 when allegations of misconduct first began to surface, the band's website stated.
Owl City's manager Steve Bursky released a statement in December 2013 stating: "As of this weekend, we have terminated Daniel Jorgensen's employment and all involvement as a touring member of Owl City. Please understand that this business decision does not implicate Daniel in the judicial system, but was both necessary and appropriate given the allegations that have surfaced over the last handful of days."
According to Philly.com, Jorgensen, who was often seen in Instagram photos with young female fans, had been at the centre of these allegations by fans in other cities. In late 2013, one fan posted about her experience with Jorgensen and warned other fans to "stay away from him".
Authorities have not released the name of Jorgensen's alleged victim.