Former secretary of state Madeleine Albright 'ready to register as Muslim' under Trump
Albright's family was Jewish, but raised her as Catholic as they feared persecution.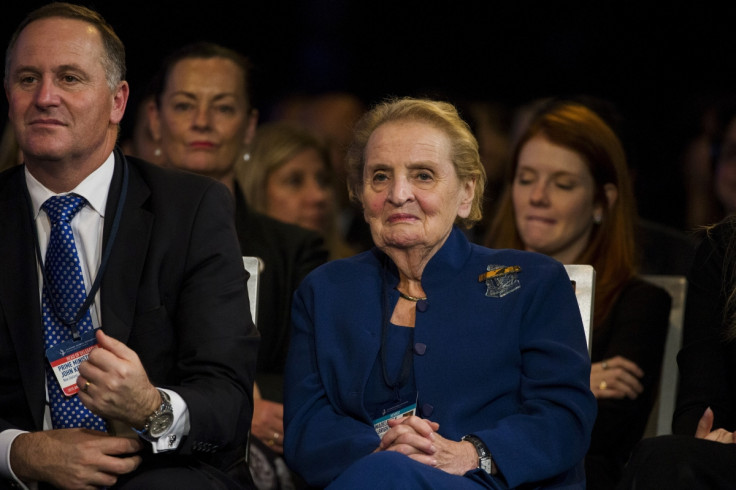 Former secretary of state Madeleine Albright plans to register as a Muslim should President Donald Trump moved to build a database tracking Muslims and other foreigners living in the United States.
Albright explained in a post shared on Twitter: "I was raised Catholic, became Episcopalian and found out later my family was Jewish. I stand to ready to register as Muslim in solidarity".
Albright's pledge was echoed a few hours later by Big Bang Theory actress Mayim Bialik, who said: "I'm Jewish. I stand ready to register as a Muslim in solidarity if it comes to that."
Calls for Jewish people to register as Muslim were already put forward in November by anti-Semitism activists. Jonathan Greenblatt, director of the Anti-Defamation League (ADL), which campaigns against anti-Semitism and other bigotry, said the talks of a Muslim registry brought back "painful memories" from when Jews were "identified, registered and tagged".
Albright's parents moved the family to the US in 1948 after surviving the Nazi persecution of Jewish people in Europe. They converted to Catholicism in 1941 but never told her of her true ancestry, or about the relatives that were killed in the concentration camps.
She found out the truth about her origins during the vetting process following her nomination of secretary of state under President Bill Clinton in 1997 – the first woman to be appointed to the role.
Trump first mentioned the intention to build a registry in the early stages of his campaign, in November 2015. The idea is to reinstate a system first devised under President George W Bush following the September 11 attacks. Known as the National Security Entry-Exit Registration System (NSEERS), the register and fingerprint system was initially supposed to track people from certain Arab and Muslim countries, but was later expanded to include all foreign visitors to the US.
The system's domestic branch required Muslim men over 16 in the country on work and student visas to register in person at government offices throughout the country. The system was suspended after another programme, US-VISIT, took over some of its duties collecting data at ports of entry.
Kansas secretary of state Kris Kobach was part of the team that created the system and advised Trump on immigration policies during the election campaign. Kobach told Reuters in November that the immigration group was considering drawing up executive orders that Trump could trigger in his first days in office.
Civil rights group have strongly opposed the policy, calling it racist and unnecessary and have pledged legal actions against the Trump administration should they put forward any policy that might infringe on people's constitutional rights.
"Such registries are ineffective and burdensome and perceived to be a massive profiling campaign targeting individuals based on their religion and ethnicity," said Robert McCaw of the Council on American-Islamic Relations (CAIR). The US condemned racial profiling in 2003.
Critics also compared the registry proposal to Nazi race laws. Under the Nazi regime, people with Jewish ancestry were required to identify themselves as Jews as a mean to separate them from the rest of the population. These policies were also enacted in Italy and in other countries occupied by Nazi Germany, and represented the basis from which the genocide of the Jewish people was carried out.
© Copyright IBTimes 2023. All rights reserved.