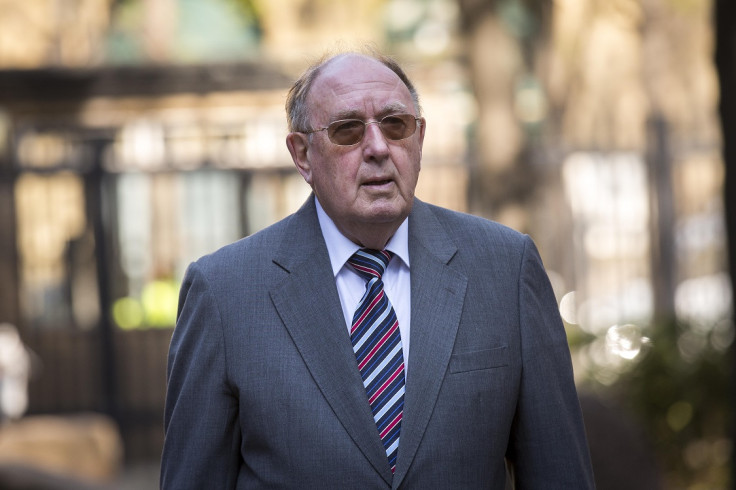 Former Ukip MEP Ashley Mote has been jailed for five years for swindling almost £500,000 ($770,000) in fake expenses from the European Union.
The 79-year-old claimed he was using the money to pay for whistleblowers to lift the lid on corruption, when he was actually diverting the cash into his and his family's bank accounts.
He was found guilty of 12 offences including fraud, acquiring criminal property and false accounting at Southwark Crown Court, and has been told he will serve at least half his sentence behind bars.
Jailing Mote, Justice Stuart-Smith said the former Ukip and independent MEP for South East England, "lied, protested, lied and lied again" to jurors about expenses.
"Your greed and dishonesty were matched only by your hypocrisy, because while this was going on you carried out a high‐profile campaign condemning corruption and the improper use of public money in the very institution from which you were leeching it," the judge said.
The court heard how Mote began skimming money from the EU just six months after he was elected in 2004. Between October that year and June 2009 he obtained 54 monthly payments of £1,000 each on the "dishonest pretext" that he had received political services from DARTT (Direct Action Resistance to Tyranny).
The sentence
Count 1: Obtaining £12,500 by deception: 18 months.
Count 1A: Theft of £12,500: 6 months
Count 2: Obtaining £3,500 by deception: 18 months
Count 3: Obtaining £54,000 by deception: 3 years
Count 4: False accounting: 3 years
Count 5: Obtaining £97,531 by deception 4 years
Count 6: Fraud 4 years
Count 7: Acquiring criminal property: 5 years
Count 8: Concealing criminal property: 5 years
Count 9: Fraud 5 years
Count 10: False accounting: 5 years
Count 10: False accounting 5 years.
In total, during the period from 2004 to 2009, he syphoned more than £400,000 in false expenses. At one point, in order to fund just under £100,000 for unrelated legal expenses, argued the legal services provided by his solicitors were in relation to activities as an MEP.
Justice Stuart-Smith added: "Your suggestion that the funding of your mortgage and bridging loan to the tune of about £180,000 was in some way balanced by undetectable payments to whistleblowers was one of the most absurd points in your lying defence.
"Under Count 8 you transferred a further £21,000 to your wife's account and £6,994 to the account of your son and his girlfriend. Once again, your suggestion that these were balanced out by undetectable payments to whistleblowers was absurd."
He went on to say Mote had "ruined your family" and that his wife of 40 years "deserves much better".
Mote was previously jailed in 2007 for nine months at Portsmouth Crown Court after being found guilty of 20 benefit fraud offences worth £65,000.
He was booted out of Ukip but kept his parliamentary seat as only convicts handed sentences of 12 months or more are disqualified from the European Parliament.