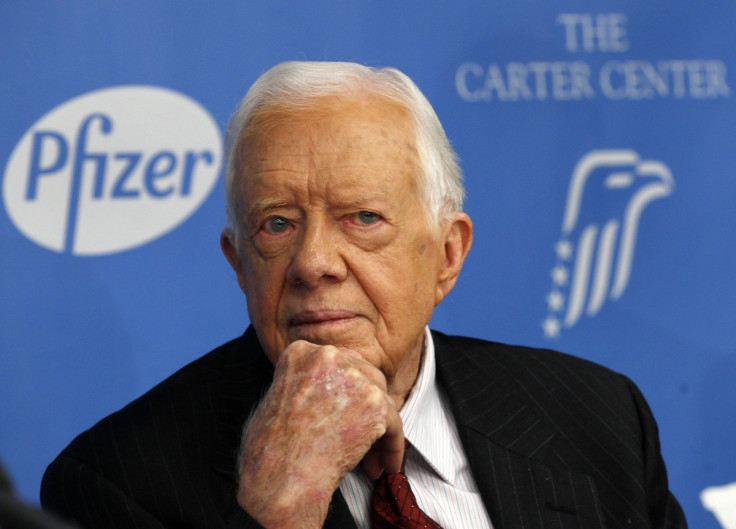 Former US President Jimmy Carter has revealed he is suffering with cancer.
In a statement the 90-year-old said: "Recent liver surgery revealed that I have cancer that now is in other parts of my body.
"I will be rearranging my schedule as necessary so I can undergo treatment by physicians at Emory Healthcare.
"A more complete public statement will be made when facts are known, possibly next week," the former president said through his foundation, The Carter Centre.
Carter, 90, underwent surgery earlier this month to remove a small mass in his liver.
The former peanut farmer and ex-Georgia governor was the nation's 39th president from 1977-81.
After leaving the White House he remained active in carrying out humanitarian efforts with the Carter Centre.
Founded in 1982, the Atlanta centre works to promote health care, democracy and other issues globally.
He recently finished a book tour to promote "A Full Life: Reflections at 90," his latest work of more than 20 books he has had published since leaving office.
As the news began trending, supporters of the former President took to social media to wish him well in his battle against the disease.
I wish him well... Former Pres Jimmy Carter announced he has been diagnosed with cancer; plans to undergo treatment pic.twitter.com/XwItgKdUPW

— Jewhadi™ (@JewhadiTM) August 12, 2015
No matter what your politics are, this is awful news. RT @csgazette: Former President Jimmy Carter says he has cancer http://t.co/KSVax3kqsb

— Craig Wieczorkiewicz (@MWLtraveler) August 12, 2015
Well wishes to the Carter family. BREAKING: Former President Jimmy Carter announces he has cancer that has spread http://t.co/orknUVWdSr

— Shirley Lawson (@DeltaDiva83) August 12, 2015