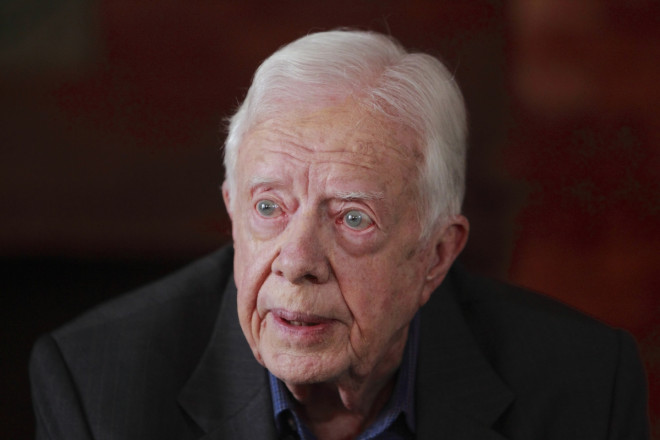 Former US president Jimmy Carter has attributed female violence and discrimination against women to the misinterpretation of religious texts within Christianity, Islam, Buddhism and Hinduism.
In his new book A Call to Action: Women, Religion, Violence, and Power, published on Tuesday by Simon & Schuster in the US, the 39th president writes that "the most serious and unaddressed worldwide challenge is the deprivation and abuse of women and girls."
Making reference to female genital mutilation and child marriage, he explains the issue is "largely caused by a false interpretation of carefully selected religious texts and a growing tolerance of violence and warfare, unfortunately following the example set during my lifetime by the United States".
Speaking to the US's National Public Radio, he explained his views: "You can pick out individual verses throughout the Bible that show that the verse favours your particular preference, and the fact that the Catholic church, for instance, prohibits women from serving as priests or even deacons gives a kind of a permission to male people all over the world, that well, if God thinks that women are inferior I'll treat them as inferiors."
In the book, Carter criticises how some selected scriptures are interpreted by "powerful male leaders" within the "Christian, Jewish, Muslim, Hindu, Buddhist and other faiths, to proclaim the lower status of women and girls".
He adds: "This claims that women are inferior before God spreads to the secular world to justify gross and sustained acts of discrimination and violence against them."
In a remark which will no doubt cause controversy, Carter points states that women are treated with greater equality in some countries that are atheistic or where governments are strictly separated from religion.
Substantiating his argument, Carter presents statistics for "unconscionable human suffering" and the manipulation of women, while making the argument that the treatment of women in world societies cannot and should not be justified by appeals to ancestral tradition or religious texts.
The litany of abuse suffered by women, often based on the misunderstanding of theological texts, includes female prisons, sexual assault in the military, rape as a weapon of war, female foetus genocide and sex trafficking.
Throughout the book, he reports on the work of the Carter Center, founded in 1982, which aims to advance human rights and alleviate worldwide suffering, as well as describing his personal observations on the conditions and hardships of women globally.
He details his account of joining Nelson Mandela to campaign for an end to South Africa's practice of outlawing treatments to protect newborn children from AIDS-infected mothers.
The book has drawn positive reviews, including from the Pittsburgh Post Gazette, which wrote: "[The book] should not only be required reading in America, but should also serve as the template for a complete reinterpretation of the religious views behind our treatment of each other."
The publishers, Simon & Schuster, describe the book as an "informed and passionate charge about human rights abuses against half the world's population" from "one of the world's most renowned human rights advocates".
Carter is the author over 20 books including, Palestine: Peace not Apartheid; We Can Have Peace in the Hold Land; and Beyond the White House: Waging Peace, Fighting Disease, Building Hope.
Since his term as president, Carter has travelled extensively to conduct peace negotiations and was awarded the Nobel Peace Prize in 2002.