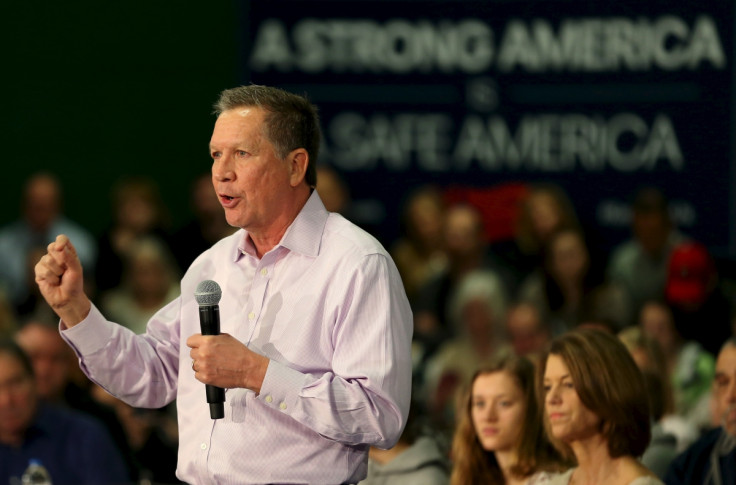 Former US Speaker of the House John Boehner has endorsed governor John Kasich ahead of the Ohio primary on 15 March. The endorsement, made during an understated speech to the Republican Party of Butler County, did not include any references to the party's reigning frontrunner Donald Trump.
"I'm not really interested in getting in the middle of all this," Boehner said. The retired speaker went on to call Kasich his friend and said he had already voted for him by casting an early ballot.
The two-term governor, who enjoys high approval ratings in the Buckeye State, has recently taken the lead in the polls against Trump. While a recent CBS News/YouGov poll on 11 March had them tied at 33%, a NBC/WSJ/Marist poll released a day earlier had Kasich six points ahead, 39% to Trump's 33%.
According to FiveThirtyEight, Kasich lags behind fellow Republican rivals Marco Rubio and Ted Cruz in endorsements by sitting government representatives. However, he does lead Trump by three endorsements, 32 to 29.
Kasich also falls severely behind in number of delegates. The long-shot candidate has 63 delegates, led by Rubio with 163, Cruz with 370 and Trump 460. If he manages to win the primary in his home state, he would stand to win 66 delegates. In an email to supporters, Kasich's campaign urged voters to show support for him in Ohio, as well as Illinois, where he is in third place behind Trump and Cruz.
In a continued quest to defeat Trump, Rubio called on Ohio supporters to vote for Kasich. "John Kasich is the only one who can beat Donald Trump in Ohio," Rubio said. "If a voter in Ohio is motivated by stopping Donald Trump, I suspect that's the only choice they can make." Rubio added that in order to defeat Trump, voters in his home state of Florida should vote for him.