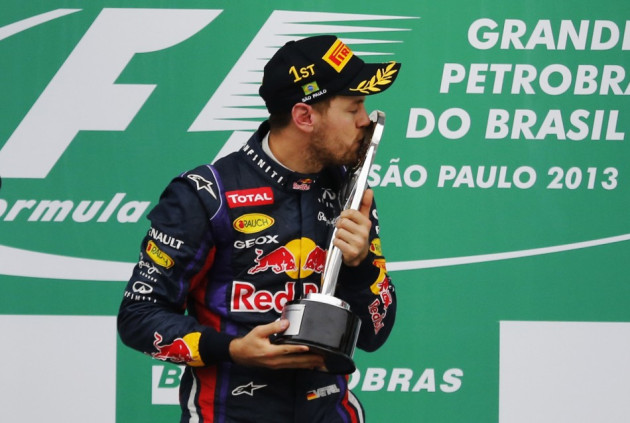 Sebastian Vettel concluded the 2013 Formula 1 season in stylish fashion as he secured a ninth successive victory at the Brazilian Grand Prix to equal Alberto Ascari's long-standing record.
The four time world champion finished ahead of his Red Bull teammate Mark Webber in what was the Australian driver's last race before he turns his attention to endurance racing next season, finishing his 215th race for the champions ahead of Ferrari's Fernando Alonso in second.
Having already secured the championship last month, the final race of the season provided Vettel with the chance to claim two personal accolades. The German became the first driver to win nine successive races in a single season, bettering the feat of Ascari in the 1952/53 campaign which saw the Italian string his nine wins together over the course of two seasons.
The 26-year-old also equalled Michael Schumacher's accomplishment of collecting 13 wins in a single season, a feat that hasn't been done since 2004.
Vettel's departing teammate Webber finished 10.4 seconds off first place, battling Alonso for the duration of the race as the Spaniard sought to break Red Bull's dominance. But he was forced to settle for third spot as his Ferrari proved to be no match for the power and speed of his rivals.
Webber lost second place again to Alonso after a delay fitting his left rear wheel at his first pit stop on lap 23, but regained the initiative and overtook the Ferrari driver into Turn One three laps later.
Outside of the top three, Jenson Button achieved McLaren's best result of the season as he finished fourth at Interlagos, creeping ahead of Nico Rosberg after the German suffered tyre degradation after Turn 1.
Sergio Perez and Felipe Massa claimed sixth and seventh placed finishes respectively, while Mercedes' Lewis Hamilton was forced to settle for ninth.
Daniel Ricciardo, who will fill the void left by the departing Webber at Red Bull for next season, concluded his time with Toro Rosso with a 10th placed finish.